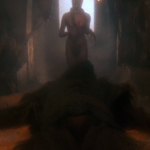 I have this rule for fantasy movies, you might've seen me write about it before. I know, the LORDs OF THE RINGSes are great and everything, but I prefer some barbarians in these things. I don't want a little innocent creature sneaking around trying not to get a spell cast on him, I want a big motherfucker with an ax smashing skulls. Sure, Aragon is pretty cool, but he's just like a knight or something. Fuck a knight. And he's not even on screen the whole time. To me, the best ones are where the main character is a beefy warrior whose code is not as civilized as ours, a man or woman forged in the fires of their savage era. CONAN THE BARBARIAN is the best example, but also WOLFHOUND, THE SCORPION KING, (I'm sorry but) the remake of CLASH OF THE TITANS, and BEASTMASTER qualifies I think. KULL THE CONQUEROR has its heart in the right place. But usually they're about a little weinery guy who has to overcome that harsh world: a hobbit, for example, or Peter MacNicol in DRAGON SLAYER, or elfy Tom Cruise in LEGEND.
CONQUEST has both of those types of characters teamed up. Ilias (Andrea Occhipinti, THE NEW YORK RIPPER, THE SEA INSIDE) is the wimpy guy, he's from the civilized part of the world, he reminds me of Harry Hamlin in the original CLASH OF THE TITANS and he has a magic bow that shoots an unlimited supply of glowing animated arrows.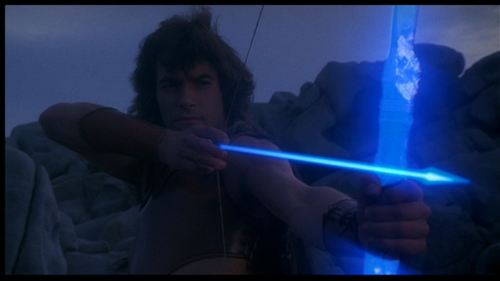 Mace (Jorge Rivero) is the barbarian.