When I was working on my DEMOLITION MAN review recently I noticed that one of Marco Brambilla's few directing credits was on DESTRICTED, an anthology of experimental shorts that got some attention in 2006 when it played Cannes Critics Week and was an official selection at Sundance. The official websight describes it as "the first short film collection of its kind, bringing together sex and art in a series of films created by some of the world's most visual and provocative artists and directors. They reveal the diverse attitudes by which we represent ourselves sexually." The cover says "WARNING: Contains strong real sex and strobing effects." (That last part is 'cause Gaspar Noe did one of the shorts.)
Anyway I always heard the Larry Clark part was good, and now that I knew Brambilla did one I could review it and say "from the creators of KEN PARK and DEMOLITION MAN."

The DVD doesn't play as a feature, it gives you a menu with the names of the directors, so you have to watch the shorts individually. The problem is Brambilla's name was not on the list. It turns out this is an ongoing project with different shorts, and the U.S. DVD doesn't include Brambilla's short "Sync," which apparently is 2-minutes worth of individual frames from porn movies. A porn blast that could've been used as a super-weapon against the robe-wearing pussies of San Angeles.
So I figured oh well, I'll just watch the shorts in order, so I clicked on the first one, which was Matthew Barney. The opening text of the DVD says something about how they asked directors to create shorts about their views of sex and pornography. Barney's answer to that call was to paint a dude's dick like a caterpillar and open with a 4-minute static closeup of the guy slowly getting a boner.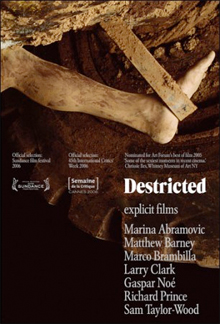 Man, I tried, but I had to start fast-forwarding before that first shot was over, then I saw a bunch of camcorder footage of a construction site, then a more professional shot of a naked dude strapped into some type of drill machine. When I got to the closeup of ejaculation (I think the head of the penis was supposed to look like a mushroom) it gave me this really good idea of skipping to Larry Clark's segment, "Impaled," and only watching that.
I've had a history of enjoying Clark's movies while also being creeped out by them. He's so obsessed with the sexuality of his young characters that it seems sketchy. This works out best in BULLY, his teen true crime tale that's darkly hilarious in its nightmarish portrait of sexually aggressive, drugged out asshole kids. But even in the outlaw drug addict road movie ANOTHER DAY IN PARADISE and the skateboard comedy WASSUP ROCKERS (both movies I liked) he has uncomfortable closeups of young men's body hair and shit. He's a weirdo.
"Impaled" is a documentary but it's sort of the Larry Clark masterwork. As the offscreen interviewer he simultaneously comes off as a sleazeball pornographer and a voice of reason exposing insanity by pointing his camera at it. It's a 38 minute short that contains hardcore pornography but very effectively deconstructs and deglamourizes porn.
The premise: he interviews a series of young men about sex and pornography. It's like one of those porn audition things except some of the questions are pointedly about the difference in their generation growing up with easy access to porn through the internet.
Then he has them take their clothes off. Not my favorite part. I think there's sort of a "taste of your own medicine" aspect of objectifying them. And he discovers that most of them shave their pubes because they saw it in porn.
Then he chooses one of them to interview a series of working porn actresses and pick one to film a scene with.
This is classic Clarkian discomfort. Some of these are ugly looking troll dudes and they get excited talking about their sexual histories and porn habits. One dude brags that his car has six TV screens in it and he likes to put porn on all of them and drive around with the windows down. Some of them are more shy than that. One was a machine gunner in Iraq, and now is in a small room taking his pants off for the director of KIDS. Making matters worse, this entire film takes place on a couch in front of a cartoon picture of animals on a submarine that looks like it belongs in a preschool. I really wonder if that was just in the room they had access to or if they intentionally put it there to make us squirm.
Almost all of the dudes really want to try anal sex. With a girl. They talk about it as the forbidden fruit or they want to be dominant or whatever. It's their main sexual goal.
Clark chooses kind of a sensitive pretty boy with hair that I believe would be called "emo." He talks like Casey Affleck and looks like he must be in some stupid band that young people like that I don't get. He stays on the couch while a series of women come in and sit next to him to be interviewed. He tries to act casual even though they all take their clothes off for him.
This is the, uh, meat of the film because these actresses talk about their jobs and their lives and try to laugh off or deny the tragedy of it all. And you watch this kid's face as he tries to stay excited for fucking one of them. One of them looks pretty young but mentions that she started because she needed the money for her two kids, then later mentions that she doesn't have the kids anymore. Another doesn't think it's relevant that she lost her virginity at 12. One laughs uncomfortably when she admits she's reached "the big 4-oh," but luckily he's into older women. At first it's kind of cute how much she seems excited for the gig, but it quickly gets creepy.
I like when Clark zooms in for a long close-up of the razor blade one girl wears on her necklace. A silent way of saying, "Hmmmmm…"
And there is this whole anal sex thing to deal with. He has to ask each one of them if they do it, because it'll be important in his decision. One of them says she doesn't do it in movies because she has to keep something sacred for the husband. The older lady hesitates and says she has to see how big his dick is first because "I have an injury." Apparently she was doing an anal scene on a bar  stool and fell off. She laughs and describes this as "a funny story."
Well – MAJOR PORN SPOILERS FOR REST OF REVIEW – she decides that with enough lube it's worth a try, and he picks her. There's a shot of him before the scene longingly looking at her photo paper-clipped to her application.
Obviously Clark doesn't shy away from showing the hardcore sex, and it's not that different from a low budget porn video except that he leaves in moments of personal awkwardness between the actors and professional tricks that interfere with the fantasy. The kid's all worked up to stick it in her butt but has to wait for her to inject lube in there with a syringe. The horrifying highlight is when they're doing the anal scene and she stops him, makes an exaggerated "whoopsie daisy" embarrassed face, and has to be handed a towel to clean up. Thank the Lord they don't show anything graphic, but apparently she accidentally shat on him. It could've been worse though, I thought it was gonna be related to her injury.
At the end the kid claims to be happy. He says he enjoyed it, but admits he almost threw up because of the shit on his dick.
This is a truly thought-provoking short. I like that it's coming from one of cinema's biggest perverts, so you know it's not just some anti-sex prude trying to punish you for his hangups. I kinda doubt he's anti-porn, and I gotta confess that watching this didn't get me off the stuff for too long. But it definitely shows how young people's attitudes toward sex can be totally warped when they have easy access to porn and not to, you know, brains.
Okay, I'm not expecting any of you to run out and see this, but it's a worthy achievement that adds some credibility to Clark's style of arthouse perviness.
This entry was posted on Sunday, June 3rd, 2012 at 10:14 pm and is filed under
Documentary
,
I don't know
,
Reviews
. You can follow any responses to this entry through the
RSS 2.0
feed. You can skip to the end and leave a response. Pinging is currently not allowed.