THE MAN FROM NOWHERE is a Korean crime picture that was Korea's highest grossing movie in 2010 and is new to DVD here in North America. The region free male of the title is Cha Tae-Sik (Won Bin), a young handsome dude who runs a pawn shop. He lives next door to a single mother who unbeknownsted to him has just stolen a big bag of heroin from a dude.
In the tradition of LEON there's a precocious little girl  that comes over and talks to our quiet, loner protagonist. She says she heard he was a gangster, and also that she wants to paint his fingernails, and he pays her fifty cents for loading his Mickey Mouse MP3 player with songs. But she's obviously an annoyance to him, he tries to get rid of her, and doesn't help her when he sees her getting into trouble with some other kids.
But this movie is not about babysitting. There is shit, and there is a fan, and the two are on a path to inevitable collision. When some very bad men come after the little girl's mom and she won't tell them where she hid their heroin the conflict is not resolved peacefully. And I'm not going to tell you what these guys do to her, but I will mention as possibly relevant information that in addition to heroin they sell human eyeballs, livers and hearts. Just as an FYI.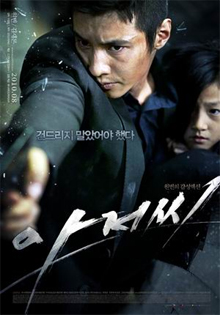 But unlike THE PROFESSIONAL, where the little girl goes under the wing of a professional to try to become a professional, the little girl in this one is just taken, like in TAKEN. And although he doesn't say it in a cool speech on the phone, The Man From Nowhere has what Liam Neeson would call a very particular set of skills, skills he has acquired over a very long career, be mindful of the living Force young padawan, take the fucking elephant.
In fact although this guy is a pretty boy there is definitely an element of Seagal in him. We find out he's ex-special forces, that he can have a knife fight against 8 guys at once and kill all of them, and that he enjoys bending back hands to break their wrists. But because it comes from modern South Korea it's even more violent than a Seagal picture. In the aforementioned knife fight there's an addition that Seagal will probly borrow some day – as he dispatches each guy he violently slashes a major artery, usually on the wrist, and digital blood (complete with disgusting sound effect) pumps out as they die.
I don't think this is a great movie, it's pretty obvious about being "LEON meets TAKEN, but in Korea" and based on my limited sampling doesn't seem to stand out too much from other modern Korean crime and revenge movies. Nicely shot, extremely violent, taking place in a horrific world where criminals are pretty much poachers of human children. But I enjoyed it because it has plenty of badass moments and it does have an odd touch here and there to spruce up the formula. So those of us who have seen it, let us acknowledge the parts that are worth acknowledging.
First of all there's a couple funny lines, at least in the English subtitles. Like in the opening scene when a cop is about to throw down with a big dude and he tells him that he should just come to the police headquarters with them because they have snacks there. That's a clever way to call a guy a fatty. And I like when the crime boss guy threatens his underlings by saying, "You better find that sample heroin or I'll donate you two to the Bodies exhibition." Great threat, and it takes on new meaning when you find out that these guys are in more than just the dope business. He might've been serious.
Another line I liked seemed like it probly lost something in the translation, but it sounds so crazy you gotta dig it: he tells his enemies that "I'll keep the gold teeth, and I'll chew up everything else." The idea is that he has that pawn shop and these assholes are worth nothing to him but a couple specks of gold in their fillings. I get that, but is he really gonna chew up their bodies? That seems like it would take a while. And it conjures kind of a weird mental picture in my opinion. But weird enough to be cool.
It also has a good version of the effeminate-but-not-necessarily-gay type of villain. The guy's hair and eyelashes look like the kids with the crybaby rock bands these days, and he's such a sissy he almost cries when a gun goes off. He screams "You fucking startled me!" But as a villain he's still a threat because of the guys he has working for him, and he's such a scumbag that at one point he tries to justify systematically killing little kids and harvesting their organs. When you're in that type of business you just shouldn't say anything, but he thinks he can defend his actions with words.
Cha Tae-sik doesn't look gritty, especially when he's got bangs dangling oh so adorably over his eyes. The actor playing him is a model and they don't ugly him up at all. He wears real nice suits and could pass for a pop star. So it's hard to say he has a badass juxtaposition. He does work well with guns, a small ax and/or a nail gun, so you may or may not want to factor that in. But if he does have a juxtaposition it's how this little girl paints a smiley face on one of his fingernails while he's sleeping and he actually leaves it. So it kind of acts like the blue-stained hand Ed Harris gets in THE ABYSS – whenever you see that fingernail it's a reminder that he's trying to save this sweet little girl. He follows a trail of girly band-aids and fingernail paintings to save her.
There are some good action moments too. In one scene a bad guy thug does a running kick to the chest of a guy in a wheelchair, sending the wheelchair rolling backwards. I don't think I've ever seen that move before.
My favorite is when the Man stalks a dude in his car and just walks up the hood onto the roof and fires down into the sunroof. That's a completely badass move that's foiled by bullet proof glass. At least initially. When his intended victim starts yelling about it being bullet proof glass the Man hold the barrel of the gun right to the windshield and unloads, slowly chipping through the glass with each shot. I loved that because even armor can sustain damage. Movies treat "bullet proof" like it means indestructible, but the truth is only KITT, KARR and Goliath can make that claim. Anything else can be damaged.
Directationally THE MAN FROM NOWHERE is nicely put together, with one standout shot: a handheld camera chases the Man down a hallway, and follows him after he crashes through a window, lands on street level and keeps running. I think there might've been some digital wizardry involved there, but it really creates the illusion that the scene was handled by a professional stuntman/camera operator able to do exactly what the star does. I'll put up with a little more of this handheld bullshit if all the cameramen are gonna start running up walls and jumping off buildings.