Kim Sun-Woo (Lee Byung-hun, the ninja-in-white from GI JOE) is the liver of the titular life, and at first I gotta say it mostly seems sweet. He works at a hotel (but really he's an enforcer) and he seems to be very good at his job. In fact he's very good at other people's jobs too, because when some slacker isn't there to take care of some rowdy guests from a rival gang Kim goes downstairs and personally martial arts the shit out of them.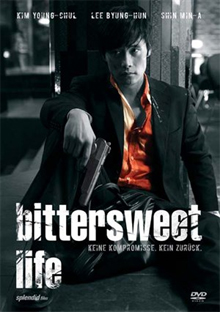 I think we can all be honest and mature adults and everything and we can admit that this guy is very handsome and well dressed. He might qualify as a "pretty boy" if he wasn't so ready to dish out a skillfully executed asskicking. It just doesn't seem fair, the guy is too perfect. Also his boss seems to think he's great. He trusts him with confidential information and with a crucial job: looking after his underage girlfriend. So our boy becomes sort of an assistant or a bodyguard to this college (I hope?) girl. Drive her around, help her out if she needs anything, trail her if she tries to sneak off.
Oh yeah, one other thing: she might be cheating with a young dude and if she is he just has to kill both of them. No big deal.
Okay, it's pretty clear where the sweet is gonna take a turn for the bitter. But actually that taste has been forming even earlier, since the opening scene, we just didn't know it at the time. His awesomeness alone causes problems. For one thing, he made his co-worker look bad by cleaning up that mess downstairs. Because he kicked so much ass everybody heard that the other guy was fucking around and not doing his job.
And of course the guys he beat up were not so happy about it either, and went to complain to their boss, who took it as a personal insult. A bunch of fuckin drama queens in these gangs. So Sun-Woo's got jealousy and grudges coming from both sides. And then of course you gotta figure he's gonna bond with the girl, and if not get sweet on her then at least feel sorry for her and not wanna kill her when it comes to that. If it does. I mean who knows, I'm not gonna say. It could be anything. Everybody might just stay friends at the end. (stop reading now if you would like to maintain that belief.)
The first chunk of the movie is so slick and clean that I kinda forgot this was a Korean movie and that shit was gonna get fuckin bad. Not Hong Kong bad, like everybody gets shot – Korea bad, like everybody wishes they would get shot instead of what happens to them instead. This Sun-Woo guy gets run through the ringer like Mel Gibson's directing him or something. After wearing his nice clothes, working in his fancy hotel, living in his neat apartment, suddenly he gets tied up and tortured in a warehouse somewhere. This is a noticeable drop in quality of living.
It's funny because it's clear that he's done some cold-hearted shit in the past, but it's the act of mercy that gets him into trouble. He could've probly avoided some of it if he would've apologized when they asked him to, but he has a code of honor and/or is stubborn as a bitter teenage mule whose parents are going through a divorce, so he won't apologize for something he doesn't feel sorry about.
Anyway, he escapes and goes on a one-man revenge spree against pretty much everybody, because they're all against him. He uses his smarts and his insider knowledge of the organized crime structure to orchestrate it all. There's also alot of lack of communication going on here that helps. Everybody has cell phones but they don't always talk to the right person or tell them the right thing.
It looks great, the action is clear and brutal and the character is cool. I like how internal he is. We understand what's going on without him having to talk much. He doesn't have to tell anybody what he's feeling or what he's done in the past. And he's such a loner, it's kinda sad. You can tell he likes when he gets to interact with the girl. Most of the time he's sitting in his car spying on people. I bet he almost wishes he had responsibilities back at the hotel, making sure all the towels get washed and all that shit. Might be more fun. He's not really into fun, though. He's very serious about everything and doesn't participate when the other dudes are getting drunk and laughing and shit.
He's kind of a wet blanket, now that I think about it. But I still root for him while watching the movie.
There are plenty of badass moments and scenes. My favorite is the one where he goes and meets with an arms dealer under false pretenses. Sun-Woo goes to pick up some unique guns claiming they're for somebody he really doesn't work for. While an underling in the other room calls in to verify his story the dealer figures it's just a formality and uses the time to teach Sun-Woo how these particular guns work. They're sitting there at a table taking the guns apart and putting them back together when it suddenly becomes clear to everybody that he's not who he says he is. And there's a moment where they stare at each other, no words spoken, and then race to be the first one to get their gun put back together.
To me a movie that has a moment as good as that is worth watching, and this movie has a bunch of them.
.
.
.
Thank you to everybody that recommended this one to me