Live action filmatists, pick up the fuckin pace, please. I didn't want to review TOY STORY 3. It is a cartoon about children's toys. We all know by now that this Pixar company is the best at what they do. I already admitted that WALL-E touched me inappropriately in the heart, that UP made me cry like a bitch and that CARS made me wonder how talking cars make love. So it's no surprise that I keep enjoying these Pixar movies. Everybody does. But nobody wants to hear what the guy who wrote the book about Steven Seagal thinks about Buzz Lightyear or whatever. It's just not something I should have to do. There are plenty of movies starring ex-wrestlers or karate champions that I haven't written about yet. But you live action directors are fuckin up this summer. You're backing me into a corner.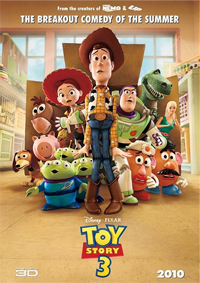 So I thought I could get out of reviewing this, but here I am a week later still thinking about the movie and realizing that it's by far the best I've seen in a theater this year. That's not saying much I guess, but it deserves a few words I think and I know some of you individuals will want to commentate in the comments area.
Well shit, I've crossed the line already, so while I'm here I guess I'll take this opportunity to admit that I also enjoyed the dragon movie earlier this year, it was surprisingly good. HOW TO TRAIN YOUR DRAGON is the second pretty good cartoon movie I've seen from the Dreamworks computer cartooning company (first one was kung fu panda). It looked real nice, had a few laughs and built nicely to an exciting action climax that looked real good in 3-D. But what I liked most about it was that it's about this kid who becomes friends with a dragon in a culture where everybody hunts dragons. So as a rite of passage they put him in a situation where he's supposed to kill a dragon, but he doesn't believe in it. So it's about a kid who doesn't believe in something that is acceptable in his culture, and that puts him in a really uncomfortable position. I thought about kids who don't want to stand for the pledge of allegiance to protest something or who don't believe in eating meat or things like that. I couldn't think of another cartoon that dealt with that type of conflict.
When one of my buddies mentioned that the dragon movie was the best movie of the year so far I said, "What? No, come on. I mean it's pretty good, but best of the year?" And he said, "Well, what do you think is better?" And I said, "uh… hmmm."
He stumped me. The only one I could think of was UNIVERSAL SOLDIER REGENERATION, which he didn't think counted because it wasn't in theaters. So I was stuck admitting that the DRAGON movie might've been the best of the year so far unless I was forgetting something. Now TOY STORY 3 runs about ten laps around it, and we must admit we live in an upside down world if all the best films being made are either family friendly computer animation or straight to video Van Damme pictures.
If you're not familiar with the TOY STORY movies, here is what they are about. Toys are alive when you're not looking, same as Puppet Master, but one is played by Tom Hanks. There is many different dolls and etc. And you can imagine where it would go from there.
This might be the best trilogy since the original Star Warses. Each chapter is very true to the characters and advances some emotional themes. I like that by part 3 Woody and Lightyear are a solid team. They have a disagreement about what to do but they don't get mad, they completely support each other and work together, knowing each other's strengths and how to back each other up. In this one they don't travel as far as in either of the others (no high speed auto chase or visit to the airport) but it feels way more epic because of the huge amount of detail and the highly populated world it takes place in. The toys move to a daycare where an entire toy society already exists. The daycare toys seem to have it all figured out, they have a hell of a setup there, kind of reminded me of DAY OF THE DEAD somehow.
You probly shouldn't read this sort-of review unless you've seen it. I'm just gonna assume you have and list some thoughts about it and some parts that impressed me into having no choice but to do this write-up.
1. The filmatism of the "caterpillar room" scene is outstanding. As the toddlers pour into the nursery and terrorize the unsuspecting toys you're thrown in there with them. The "cameras" are put at floor level so you're looking up at these kids like they're monsters about to bite your head off. I remember a POV shot from Lightyear's perspective as his face is used to hammer blocks into slots. It just puts you right into the action, there's all kinds of fast paced mayhem and you see it, understand it, and feel it. I know I'm a broken record on this point of how bad modern action direction is, but let's be serious here, THE A-TEAM is one of the more passable recent action movies and it doesn't have any scenes as visceral as this one about kids smearing snot on toys. I never thought I'd say this, but modern big screen action directors, forget everything you know and study some Pixar cartoons.
2. You thought I was gonna say this first but I saved the good shit for number two: Holy shit that part at the garbage dump is amazing! Here are these toys who we've been worrying with for three movies. In part 1 they were afraid of being replaced by new and better toys (or pets). In part 2 they were afraid of being outgrown and forgotten by their owners, or sold in a garage sale or to a collector who just puts them under glass. In this one they're biting the bullet and facing down the inevitable, that their kid won't play with them forever and they should be happy being put in the attic or donated to the daycare.
But here they end up facing a fate worse than they had considered before, they are actually garbage. Bad, right? And it gets worse when they're about to be incinerated. For three movies they've worried about abandonment and damage from mean kids but they've never even mentioned the possibility of being completely melted down – what I can only assume is actual toy death. That's kind of a heavy notion for a movie like this, but not nearly as heavy as the fact that they see this fate in front of them, they accept it, and they wordlessly face it down, holding each other's hands to die together as a family. This is some profound shit.
And then the thing that saves them is, from the perspective of the martians, an intervention from God! We've known since part 1 that this was the martian religion. We just didn't take it seriously.
After seeing this scene I almost believe my own ridiculous prediction that CARS 2 will find some way to make my CARS-hating buddies shed tears over the emotions of an anthropomorphized vehicle.
3. This one didn't get me like UP did, on account of me being so manly and everything. But the part that came the closest was when Woody was peaking out of the box and saw the mom getting choked up about Andy's room being empty as he's ready to go off to college. It's touching just on the surface level of relating to the mom and the kid, but also it's touching when you consider what it means to Woody. I think this is the first time he's realized that people have to say goodbye too. He sees that the mom is sad to see her son grow up, but she has to send him off into the world. He knows that he has to do the same thing.
4. I really like the character Big Baby. He works so perfectly as a dimwitted behemoth henchman in the world of toys. He's creepy as hell and then he's lovable at the end. I also like that killer monkey, I think that's the one that's gonna haunt the dreams of children across the world, not the incinerator scene. At a young age you probly can't comprehend all the implications of what's going on in the incinerator, but you can definitely appreciate the terror of that fuckin monkey clapping his cymbals on your head.
5. Anybody else wonder why these toys got such a problem with Ken being girly? There's the scene where the bookworm thinks he sees Ken wearing pumps, and he shakes his head in disgust. Later the main characters all seem very uncomfortable with Ken's feminine handwriting.
Let's examine this. The toys of TOY STORY have the ability to fall in love. Mr. and Mrs. Potato Head are in love, Buzz seems to have a thing for Jessie, Barbie for Ken, etc. But unlike cars, toys do not reproduce. They're manufactured by man. The Potato Heads cannot bear children, they can only adopt martians. There's no reproductive need or instinct, and even if there was, we all know that Barbie and Ken have no genitals to mate with. So there's no reason for the toys to have genders at all, let alone to have an instinct for male-female pairs. So why are they so uncomfortable with Ken? Is it homophobia?
I think it's cultural. Gender roles are forced on young people through their toys. In fact, Barbie herself got into some trouble for saying "math is hard" and making girls feel dumb. If anybody is a slave to these archaic ideas it's toys. Although if my dream of an animated movie about laundry ever comes true I'm sure there will be some real strong differences between the different types of underwear.
* * *
Anyway, great movie. It can't be denied. It's great to see people who put so much thought and care into something, especially since that approach seems to have gone out of style.
Seriously live action people, this is not a hollow threat. This is real, this is happening. Already, Brad Bird of the "incredibles" and the cooking rat one has been conscripted to direct MISSION: IMPOSSIBLE: 4 using live humans. And do you have any doubt in your mind that he'll knock that shit out of the park like one of those steroid monsters they had in baseball until a couple years ago? If you don't start doing better, the cartoonists will be happy to take over.
This entry was posted on Friday, June 25th, 2010 at 12:43 pm and is filed under
Cartoons and Shit
,
Reviews
. You can follow any responses to this entry through the
RSS 2.0
feed. You can skip to the end and leave a response. Pinging is currently not allowed.