Okay, let's say that hypothetically you went to the Paramount Theater in Seattle last night for the Ice Cube/Snoop Dogg "How The West Was One" tour, and were about ready to jump off a bridge after Ice Cube's set. And we'll assume that the reasons for this severe disappointment have to do with Mr. Cube not performing a single song from his classic solo albums 'Amerikkka's Most Wanted' and 'Death Certificate', and only two obvious ones from 'The Predator.' This after playing a bunch of bullshit songs from his most recent album and then declaring "okay, that's the new shit, now we're gonna play the old shit." To make matters worse he played a Westside Connection song, then said "But there was another group I was in…" and after a big build up performed… a song about N.W.A. Nothing by them.
I can't imagine who this would be who would be in this hypothetical situation, but I have a remedy for him or her and it's called waxpoetics #41, May/June 2010, The Hip-Hop Issue.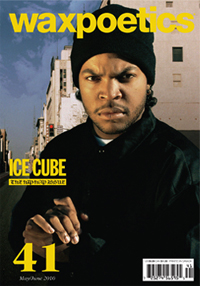 I picked this up a little while ago but didn't get a chance to read any of it until this morning. There's a bunch of articles in it that look promising, including an interview with Ice-T about the early days (think Breakin') and a profile of DXT, the DJ who did the scratches for Herbie Hancock's "Rock-It." But the important one today is the Ice Cube article, which focuses entirely on his first (and in my opinion best) album Amerikkka's Most Wanted.
I won't give it all away, but if you're interested in that album it's great background on how this L.A. gangster rapper quit the hottest rap group around, went to New York and recorded his first solo record with the greatest production crew of all time, the Bomb Squad. It's just full of little details like how Chuck D actually tried to convince him to stay in NWA, why there's such a shift between ignorant gangster lyrics and attempts to be more conscious (he wrote half of the songs for Eazy E!), that they had a problem with voices in the skits sounding too obviously not-from-L.A., why Mr. Rogers got $20,000 from the album. It's good shit and at the end of the article you learn that there's gonna be even more when the article is expanded in the book Check The Technique Vol. 2: More Liner Notes for Hip-Hop Junkies.
This entry was posted on Thursday, July 15th, 2010 at 9:35 am and is filed under
Blog Post (short for weblog)
. You can follow any responses to this entry through the
RSS 2.0
feed. You can skip to the end and leave a response. Pinging is currently not allowed.