I gotta confess coming to this one from a place of cinematic ignorance. I've seen the original Godard movie, but I don't remember jack shit about it. I thought it was pretty good, I believe. That's about all I got. Still, I'm sure less people could tell you anything about the remake than everything about the original. So this makes me smart.

In the remake from director Jim McBride (PRONTO) and co-writer L.M. Kit Carson (PARIS TEXAS, TEXAS CHAINSAW MASSACRE 2) Richard Gere plays Jesse, a car thief who seems to have a supernatural knack for finding classic convertibles parked and ripe for the picking. Another character at one point describes Jesse as a "Vegas boy, thinks he's cute." He's full of annoying energy, always talking to himself, or sometimes to a dog. He's Nicolas-Cage-esque in his shameless attempts to embody old time rock 'n roll. He wears tacky clothes, sings in the car and shower, dances while thumbing a ride, listens to and rhapsodizes about Jerry Lee Lewis, gets a girl's attention by playing air guitar outside here classroom window.
On the way from Vegas to L.A. he won't stop for a cop, runs himself off a road and somehow the cop gets shot. (I'm not clear how – Jesse left his gun in the car, and seems surprised that it happens.) Oh well. He still goes to track down Monica (Valerie Kaprisky), the gorgeous French architecture student he had a fling with in Vegas. She has a thing with her teacher now and at least acts like she doesn't want Jesse around, but he keeps following her and picking her locks, and she doesn't tell anybody.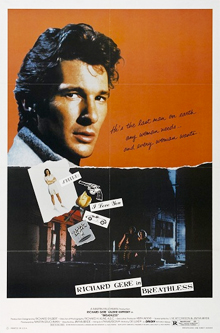 He's a fairly obnoxious, deluded character. He seems to think if he just ignores reality then things will get better. He goes between two of the more artificial cities in the world, and there's a visual emphasis on neon signs, giant donuts, bus stop bench ads for the Hollywood wax museum, and shit like that. To a certain extent ignoring reality does work for him, because Monica does give in to him. But it doesn't change that his picture is in the paper with an article calling him a cop killer. That makes it harder to woo Monica and do business and everything.
Who does this guy think he is showing up out of the blue, showering affections on this girl, then when she gives in and is gonna fuck him he gets jealous that she gets a phone message from another dude he already knew about? A few minutes later he has a sudden change of heart thanks to the King. He interrupts her shower to serenade her with "Suspicious Minds," and is nicer to her from that point on.
Another thing that's odd about this guy, he's really into the Silver Surfer (the comic book, not the movie). He shows it to Monica and tries to explain how romantic it is. He also argues with some kid at a newsstand who tells him Silver Surfer sucks. It's a pretty big issue for him. The kid doesn't understand why the Silver Surfer wouldn't use his cosmic surfing powers to leave Earth when the going gets tough, but Jesse insists that it's because he loves a girl so fuck you you little weiner you don't know what you're talking about. This romantic notion parallels his life and encourages him to wait around for Monica instead of running the hell to Mexico before he gets caught. (The opening credits are done in a comics font, calling attention to the significance of the comic book.)
Jesse brings his hot cars to this sleazy guy named Birnbaum. In one scene they meet in a junkyard and Birnbaum is wearing short shorts and a hat with a pinwheel on it and won't stop sucking on a popsicle. Suddenly I realized that this disgusting sight was Art Metrano, a.k.a. Mauser from POLICE ACADEMY 2-3. Man, the boys at the Academy would love to get him to the Blue Oyster in this getup.
Jesse is way more of an interesting character than a likable one. But I like poor Monica, with her thick accent, her sudden bursts of intense sexuality and her unfortunate attraction to dirtbags. I know movies love spontaneity and romance and all that shit, but you gotta figure she would've been better off following hxczxer first boring instinct and just trying to do well in college rather than going on the lam with a lying, mood-swinging criminal because he sang Elvis to her and fucked her in the shower.
But something about their reckless, stupid love is convincing on film. It fuels it as it winds down from a loose, meandering story to an inevitable showdown. I like this movie.
The movie was widely panned at the time though and of course when you say "remake of BREATHLESS with Richard Gere" now it doesn't sound very respectable. As far as I can tell it doesn't have much of a reputation, but a buddy of mine tipped me off to it as a major inspiration for Tarantino that hasn't been talked about as much as some of the other ones.
And man is that correct. So much of what we associate with Tarantino is in this 1983 movie. I believe that Tarantino liked it so much he kinda idolized Jesse, bit his style in his personal life, and then that became Clarence in TRUE ROMANCE. They dress like each other, they talk about the same shit, they try to make it cool to show a girl the romantic part of an old Marvel comic book. Near the beginning of this movie you got a process shot of Jesse driving in an old Porsche, listening to Jerry Lee Lewis, and he puts a gun on top of a copy of Silver Surfer. That's Tarantino right there!
Even Tarantino's music seems influenced by BREATHLESS. There's a prominent use of "Jack the Ripper" by Link Wray and the Wraymen during a chase scene, in much the way Tarantino uses other Link Wray songs in PULP FICTION (and Tarantino's pal Robert Rodriguez used the same song in DESPERADO).
I'm not bringing this up in that moronic "this proves that Tarantino is a fraud!" way that has been popular for decades on the internet. I think it's cool that he was obviously influenced by this mostly forgotten and disrespected movie. I can understand why people don't want to give it a chance, but it's a pretty good one.