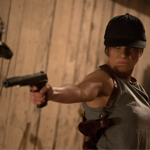 THE ASSIGNMENT is Walter Hill's weird new pariah of a movie, a Tale From the Crypt without a Keeper, based on a gimmick that was too challenging to execute properly, even ignoring the current touchiness of the subject matter. It's much more interesting than good, more of a great acting challenge for Michelle Rodriguez (AVATAR) than a successful vehicle for her talents. Nice try, though.
Here's what it's about: ruthless hitman Frank Kitchen is just doing his thing one day, ruthless hitmanning, when he gets jumped and knocked unconscious and later he mysteriously wakes up in a hotel room with a woman's body. Not, like, in bed with a dead woman. Like, he looks down and he has female genitalia. (read the rest of this shit…)
VERN has a new action-horror novel out called WORM ON A HOOK! He has been reviewing movies since 1999 and is the author of the film criticism books Seagalogy: A Study of the Ass-Kicking Films of Steven Seagal and Yippee Ki-Yay Moviegoer!: Writings on Bruce Willis, Badass Cinema and Other Important Topics as well as the crime novel Niketown.