June 5, 1998
Truman Burbank (Jim Carrey, THE DEAD POOL, PINK CADILLAC) thinks he just enjoys a normal white picket fence type life mowing the lawn and saying hello to the neighbors and putting on a suit to go work at the insurance company and all that type of shit. He has no idea that his idyllic town of Seahaven is actually a set built on a soundstage so huge it can be seen from space, or that everyone around him, from the random cars that drive past him to his own wife Meryl (Laura Linney, ABSOLUTE POWER, MYSTIC RIVER, SULLY), are hired actors, in on the deception. Literally everything in his life is staged for his benefit.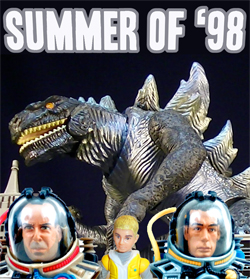 It sounds like a Twilight Zone premise, and it kind of is: there's an episode of the '80s incarnation of the show that's pretty similar. In "Special Service," written by J. Michael Straczynski (CHANGELING), David Naughton is shaving one morning when the bathroom mirror falls off the wall and he sees a camera behind it. A serviceman shows up and tries to make excuses but soon has to admit to him that his life is a popular TV show. He seems to be allowed to live in the regular world, though, and the people around him are just cool about keeping the secret until the cat's out of the bag, at which point he gets mobbed by screaming women. He also got to grow up normal before they started doing this to him five years ago. (read the rest of this shit…)
VERN has a new action-horror novel out called WORM ON A HOOK! He has been reviewing movies since 1999 and is the author of the film criticism books Seagalogy: A Study of the Ass-Kicking Films of Steven Seagal and Yippee Ki-Yay Moviegoer!: Writings on Bruce Willis, Badass Cinema and Other Important Topics as well as the crime novel Niketown.