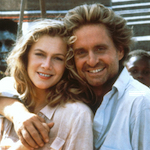 Wow, THE JEWEL OF THE NILE came out less than two years after ROMANCING THE STONE, which was expected to be a flop, so it's not like they had a head start. Fast turnaround. Robert Zemeckis was off making BACK TO THE FUTURE and Diane Thomas was writing scripts for Spielberg (and wanted to be paid well) so producer/star Michael Douglas hired director Lewis Teague (ALLIGATOR) and writers Mark Rosenthal & Lawrence Konner (THE LEGEND OF BILLIE JEAN, later SUPERMAN IV, SOMETIMES THEY COME BACK, STAR TREK VI, MERCURY RISING and the bad PLANET OF THE APES).
The story starts six months later, with Joan and Jack sailing around the world on the boat he bought with the proceeds from part 1's stolen jewel. (I thought he bought it for her as a gift, but I guess not.) This time she's having trouble writing her books because her life is too much romance and adventure. She's actually bored of all the exotic locales and beautiful sunsets and sits in the boat with her typewriter writing a garbage pirate adventure which she now imagines starring herself and Jack but also gets thrown off and accidentally turns the pirates into punks? I don't know if that represents a typo or a failed artistic flourish or what. (read the rest of this shit…)
VERN has a new action-horror novel out called WORM ON A HOOK! He has been reviewing movies since 1999 and is the author of the film criticism books Seagalogy: A Study of the Ass-Kicking Films of Steven Seagal and Yippee Ki-Yay Moviegoer!: Writings on Bruce Willis, Badass Cinema and Other Important Topics as well as the crime novel Niketown.