May 19, 1998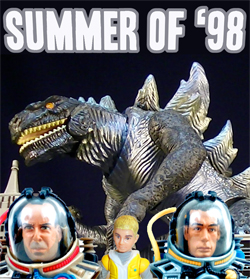 Fresh off of the hard-hitting journalism of Tea Leoni in DEEP IMPACT and Maria Pitillo in GODZILLA, summer of '98 offered an alternative approach. Johnny Depp (A NIGHTMARE ON ELM STREET) plays Raoul Duke and/or Hunter S. Thompson in Terry Gilliam's adaptation of Thompson's 1971 Rolling-Stone-two-parter-turned-book about covering the Mint 400 desert motorcycle race for Sports Illustrated. You do see a glimpse of dirt bikes (well, mostly dirt), but the real story is his crazed debauchery while "searching for the American Dream" with his lawyer (who we never once see doing legal work) Dr. Gonzo (Benicio del Toro, SICARIO), ingesting much of the contents of a briefcase containing "a serious drug collection," turning hotel rooms into Vietnam War movies and barely avoiding death or prison like some silent film clown accidentally dodging a series of falling objects.
And the movie itself keeps ducking dangers with miraculous precision. This is 118 minutes of what mostly feels like aimless madness, depraved variations on bad behavior and hallucinations, but to me it never gets old. I actually feel more exhausted at the end of Gilliam's more polite movies like BRAZIL, THE ADVENTURES OF BARON MUNCHAUSEN or TWELVE MONKEYS. Somehow I'm endlessly amused by Duke and Gonzo's deadpan craziness as they live out the type of lifestyle where you'd only be a little surprised to wake up with an alligator tail growing out of you, a microphone taped to your face and a giant smoking hole in your hotel bed. (read the rest of this shit…)
VERN has a new action-horror novel out called WORM ON A HOOK! He has been reviewing movies since 1999 and is the author of the film criticism books Seagalogy: A Study of the Ass-Kicking Films of Steven Seagal and Yippee Ki-Yay Moviegoer!: Writings on Bruce Willis, Badass Cinema and Other Important Topics as well as the crime novel Niketown.