July 26, 1985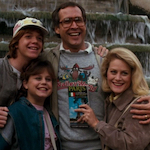 NATIONAL LAMPOON'S EUROPEAN VACATION is one of the Summer of 1985 movies I actually did see in the theater. I was young and I'm sure I thought it was funny enough at the time, but I doubt I ever rewatched it before now, and I did not feel any nostalgia for it.
While the first VACATION was directed by Harold Ramis, this one was Amy Heckerling, following FAST TIMES AT RIDGEMONT HIGH and JOHNNY DANGEROUSLY. She occasionally brings what probly were considered "MTV style" flourishes to montages and stuff, but is fairly anonymous. John Hughes returned as writer/producer, but for the first one he'd been able to adapt a short story he'd already written for National Lampoon. This one had no such basis, so he had to bring in a serious, heavy hitter, not fuckin around super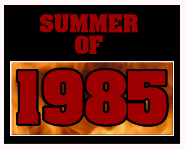 star pinch hitter of a co-writer to carry his dead weight and turn this into something truly special. But that person must've been busy so he got Robert Klane, writer/director of the disco movie THANK GOD IT'S FRIDAY (1978). Klane had previously been a novelist, but in 1970 adapted his book WHERE'S POPPA? into a movie, which led to writing some episodes of M*A*S*H, an unproduced GREASE sequel called GREASIER, the Summer of 1985 movie that I skipped THE MAN WITH ONE RED SHOE, etc. (read the rest of this shit…)
VERN has a new action-horror novel out called WORM ON A HOOK! He has been reviewing movies since 1999 and is the author of the film criticism books Seagalogy: A Study of the Ass-Kicking Films of Steven Seagal and Yippee Ki-Yay Moviegoer!: Writings on Bruce Willis, Badass Cinema and Other Important Topics as well as the crime novel Niketown.