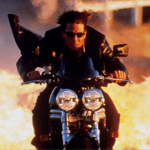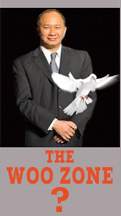 MISSION: IMPOSSIBLE 2 was made at a time when the world just wasn't ready for this particular MISSION: IMPOSSIBLE 2. There needed to be more of a cooling off period after the first one. We needed some time to learn that MISSION: IMPOSSIBLE sequels weren't gonna be the elegant balance of smart-people thriller and blockbuster spectacle that Brian DePalma introduced in the first one, and also that John Woo was not gonna ever seem like the exact same filmatist who made THE KILLER, or HARD BOILED, or even FACE/OFF, again. Returning to it now it's even more evident that it's best appreciated by watching it like we watch other post-Hong-Kong Woo pictures like HARD TARGET, or his TV ones like BLACKJACK or the Once a Thief series. You just try to enjoy it as some Hollywood bullshit that he tried to add some of his particular style to. Here he treats it as an expensive studio movie love story set against a rogue agent trying to get rich off of a man-made disease and its cure.
Tom Cruise (JACK REACHER) returns as Ethan Hunt, who has graduated from IMF support man to lone wolf and is now so awesome that he spends his vacation rock climbing out in the middle of nowhere with no equipment. He doesn't have his phone on him (it was 2000) so the agency has to send a helicopter to fire a rocket at him containing douchey sunglasses that give him his mission briefing. This is a good idea because the ol' "this message will self destruct" means he throws a pair of sunglasses at the camera and they explode into the title, and everybody wants to see that. (read the rest of this shit…)
VERN has a new action-horror novel out called WORM ON A HOOK! He has been reviewing movies since 1999 and is the author of the film criticism books Seagalogy: A Study of the Ass-Kicking Films of Steven Seagal and Yippee Ki-Yay Moviegoer!: Writings on Bruce Willis, Badass Cinema and Other Important Topics as well as the crime novel Niketown.