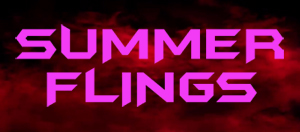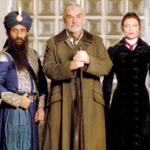 July 11, 2003
THE LEAGUE OF EXTRAORDINARY GENTLEMEN is a cool fucking premise: a sort of Victorian era Justice League made of literary characters with unique talents or abilities. In this world, the famous stories of English literature (plus Mark Twain) really happened, and the Queen puts together a super-team to try to stop an attack on Venice. So James Bond's M (Richard Roxburgh, VAN HELSING, STEALTH) recruits the adventurer hunter Alan Quatermain (Sean Connery, FIRST KNIGHT), Dracula's Mina Harker (Peta Wilson, SUPERMAN RETURNS), the Invisible Man (but actually not the same H.G. Wells one, for legal reasons)(Tony Curran, Priest from BLADE II), Dr. Jekyll/Mr. Hyde (Jason Flemyng, BRUISER), Dorian Gray (Stuart Townsend, director of BATTLE IN SEATTLE) and Captain Nemo (veteran Bollywood star Naseeruddin Shah).
Sort of like MYSTERY MEN, this is based on a comic that's a riff on the super hero team stories, but made when X-MEN was the only straight up movie version of that sort of thing. The comic, written by Alan Moore, is apparently very different, thicker in obscure literary allusions and lighter in summer movie type spectacle (sword fights, shoot outs, flying CGI machinery, explosions). The adaptation is credited to another comic book writer, James Robinson, who wrote alot of Superman. His previous screenwriting work was CYBER BANDITS, COMIC BOOK VILLAINS and a swing and a miss in the long line of writers trying to figure out how to do FREDDY VS. JASON. (read the rest of this shit…)
VERN has a new action-horror novel out called WORM ON A HOOK! He has been reviewing movies since 1999 and is the author of the film criticism books Seagalogy: A Study of the Ass-Kicking Films of Steven Seagal and Yippee Ki-Yay Moviegoer!: Writings on Bruce Willis, Badass Cinema and Other Important Topics as well as the crime novel Niketown.