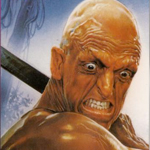 THE HILLS HAVE EYES is not my favorite Wes Craven movie, but in a certain sense it's one of his purest. It has that LAST HOUSE ON THE LEFT maniac-college-professor vibe – another raw, seedy gut-punch of a drive-in movie layered with completely sincere themes and social commentary. And it's a little more fantastical than LAST HOUSE, with less straight up degradation, so I don't feel as ashamed for liking it.
Instead of a gang of criminals we have a literal tribe of modern primitives – the wicked spawn of Papa Jupiter (James Whitworth, THE CANDY SNATCHERS), born "40 pounds and hairy as a monkey" in Nevada, mutated by nuclear tests and the nearby Air Force gunnery range, grew to adult size too fast, burned down his parents' home, his dad split his face open with a tire iron and left him in the desert to die, but he survived in the hills and kidnapped some poor prostitute (Cordy Clark) "to raise a passel of wild kids" with. They wear animal parts and pieces of junk as trophies, and like the buzzards in the sky they stay above, keeping watch below, waiting to see what the highway brings them. (read the rest of this shit…)
VERN has a new action-horror novel out called WORM ON A HOOK! He has been reviewing movies since 1999 and is the author of the film criticism books Seagalogy: A Study of the Ass-Kicking Films of Steven Seagal and Yippee Ki-Yay Moviegoer!: Writings on Bruce Willis, Badass Cinema and Other Important Topics as well as the crime novel Niketown.