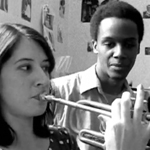 Before LA LA LAND, before WHIPLASH, before writer/director Damien Chazelle graduated from Harvard Film School, he had already started his first feature, the musical GUY AND MADELINE ON A PARK BENCH. Guy (Jason Palmer) is a young trumpet player, Madeline (Desiree Garcia) is someone he has apparently been dating, and she is looking for a new job and apartment and boyfriend throughout the movie. Another woman, Elena (Sandha Khin, RUNNER RUNNER), gets at least as much screen time. Guy meets her on a subway, but she was not on the park bench so she's not mentioned in the title, which for reasons unclear to me is only concerned with who was on a park bench. Keep your eye on the ball, title.
Like LA LA LAND this is a tribute to old fashioned musicals and jazz and blossoming romance, but stylistically it's completely different. Shot in 16mm black and white, it has a nice, timeless look (I would've guessed it was earlier than 2009). The cast is all non-actors, the style is cinema verite, none of the dialogue, or even the story, seems at all scripted. It's just kind of a series of unfolding events and encounters. It's a while before any of those are actual musical numbers, but we often see Guy playing gigs, and giving Madeline what seems to be a real first trumpet lesson. Later she gets a drum lesson from Chazelle himself. (Don't worry, he doesn't go J.K. Simmons on her.) (read the rest of this shit…)
VERN has been reviewing movies since 1999 and is the author of the books SEAGALOGY: A STUDY OF THE ASS-KICKING FILMS OF STEVEN SEAGAL, YIPPEE KI-YAY MOVIEGOER!: WRITINGS ON BRUCE WILLIS, BADASS CINEMA AND OTHER IMPORTANT TOPICS and NIKETOWN: A NOVEL. His horror-action novel WORM ON A HOOK will arrive later this year.