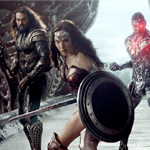 (SPOILERS)
Sometimes, you know, Superman dies, so a bad guy decides to conquer the world, so you have to put together a team of other super heroes to fill in for Superman, but then you decide to bring him back to life, but he seems evil at first and fights you, but then he chills out while you fight the CGI guy, then he shows up. JUSTICE LEAGUE is a perfectly watchable, okay super hero romp, with a hefty serving of the humor everyone thought was missing in the last two Superman pictures, but no more sense, and very little of the gravity or operatic style. Goodbye worshipful awe of Superman, hello green screened-in undercutting gags.
Oh, but don't worry, when Aqua-Man smashes through a building it's been painstakingly established that it's in an abandoned town. That's the most important thing, obviously.
The invasion foreshadowed at the end of BATMAN V. SUPERMAN: DAWN OF THE LIVING JUSTICE is at hand. Batman knows it because a Geonosian "Parademon" flies up while he's hanging a thief off a rooftop. I think he was using the poor guy as bait (the things smell fear), but possibly it's just a weird thing that happens while he's on the job. I like that when the creature appears Batman and the criminal seem to completely drop their conflict and have a conversation about how fucked up things are since Superman's death. A little bonding between fellow humans. A nice moment. (read the rest of this shit…)
VERN has a new action-horror novel out called WORM ON A HOOK! He has been reviewing movies since 1999 and is the author of the film criticism books Seagalogy: A Study of the Ass-Kicking Films of Steven Seagal and Yippee Ki-Yay Moviegoer!: Writings on Bruce Willis, Badass Cinema and Other Important Topics as well as the crime novel Niketown.