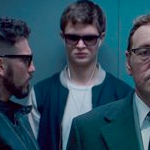 There's this baby-faced young man who in fact goes by the handle of Baby (Ansel Elgort, who impressed me as Tommy Ross in the CARRIE remake) and he's a whiz kid of a getaway driver for armed robberies. He loves listening to music, and uses his favorite songs to inspire and time his driving, which is spectacular. He can maneuver and slide and spin and he is living proof that not everybody followed the disclaimer at the end of TOKYO DRIFT.
(He would've been about twelve when it came out, and surely influenced by it during his driver's exam.)
Some have described this is a musical, which makes some sense. At times it feels like a movie based on the current trailer fad of editing gunshots and other sound effects as percussion playing along with the music.
After they get away, when the gang meets up to split the money, they make Baby go buy the coffee. Here's one thing they carefully edited out of the trailers: he's a total dork. In the car, but also at home, or walking in public, he listens to his earbuds and sings along and does little dance moves and shit. The whole walk to and from the coffee shop he seems like he's on the verge of busting into a full on SINGIN' IN THE RAIN number. I wonder if they considered casting Moose from the STEP UP sequels in this. (read the rest of this shit…)
VERN has a new action-horror novel out called WORM ON A HOOK! He has been reviewing movies since 1999 and is the author of the film criticism books Seagalogy: A Study of the Ass-Kicking Films of Steven Seagal and Yippee Ki-Yay Moviegoer!: Writings on Bruce Willis, Badass Cinema and Other Important Topics as well as the crime novel Niketown.