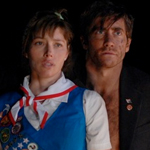 "Have you ever been to a military-media moonbase event before?"
I don't know if you guys remember this, but a long time ago David O. Russell was supposed to be doing a new comedy called NAILED, about Jessica Biel getting a nail stuck in her head. This was about seven years ago actually, so at the time Russell was coming off of I HEART HUCKABEES, which I really liked, but it didn't seem like he was on the verge of becoming one of the big directors. I'm talking five years before he directed Jennifer Lawrence in an Oscar winning performance, when she was still playing the daughter on The Bill Engvall Show. That's how long ago this was.
He was filming and everything but he kept having disasters with the financiers going bankrupt, not having enough money to pay the cast and crew, who repeatedly walked off. Eventually it got so bad Russell decided he had no choice but to close up shop with a day or two of filming left. He just gave up and took his first for-hire directing gig, subbing for Darren Aranofsky as a favor to Mark Wahlberg… but then that was THE FIGHTER, and all the sudden he had an Oscar nomination for best director, and then he did SILVER LININGS PLAYBOOK and AMERICAN HUSTLE so he had three of those nominations and all the sudden he's more known as that guy with the glasses at the Oscars than that mean guy who yelled at Lily Tomlin. Things are so good for him now he probly sometimes forgets that he wasted years of his life almost making NAILED.
But now all the sudden there's this movie called ACCIDENTAL LOVE that's on V.O.D. and will be on actual video soon. It's written and directed by one Stephen Greene and it happens to have the exact same cast and premise as NAILED. You may be thinking "Stephen Greene, you hustlin sonofabitch, how the fuck did you achieve what three time Academy Award nominee for best director David O. Russell could not?" Actually my immediate assumption was that some guy named Stephen Greene did that last bit of shooting, slapped the thing together and credited himself as the director. But it turns out there is no Stephen Greene, he's like Keyser Soze. They let Russell use a pseudonym for this release, which from what I hear takes some doing.
Ha. Both the director and the movie itself wanted to use pseudonyms. (read the rest of this shit…)