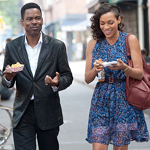 I usually have a hard time writing about comedies, but TOP FIVE is a moment worth commemorating: the point when Chris Rock finally became the filmmaker he always seemed like he wanted to be.
Not that he really needed that. The man has come a long way since having to play Luther Campbell on Saturday Night Live because he's the only black guy. He's reached the heights of standup, done some smart television, hosted the Oscars, produced GOOD HAIR and POOTIE TANG*, and yes, been funny in movies. But to me it seemed like his movies were always compromised in some way. Can you point to the one (or more) great Chris Rock vehicle? CB4 maybe?
I remember when he directed HEAD OF STATE I had high hopes. That's about all I remember. Well, the one thing that made an impression was that it had narration sung by Nate Dogg.
TOP FIVE finally feels like that pure personal expression he's been on the verge of. Not because he plays a comedian trying to be taken more seriously, but because his talents and passions are all over this. It's a conversation movie. His character, comedian-turned-movie-star-tired-of-comedy Andre Allen, is being profiled by New York Times writer Chelsea Brown (Rosario Dawson) on the eve of his movie about the Haitian Revolution and his Bravo-sponsored wedding to a reality show star (Gabrielle Union). (read the rest of this shit…)