Well, we're getting to the end of the summer here and it's been pretty light on good old fashioned popcorn type movies. Most of us enjoyed STAR TREK, but that was at the very beginning of the summer, it seems like a lifetime ago. TERMINATOR SALVATION was a letdown, TRANSFORMERS 2 need not be described, GI JOE was hilarious but not the type of behavior we want to encourage. Leave it to some 29 year old South African director of video game commercials to make the most memorable sci-fi action type movie in a while.
Neill Blomkamp was the plucky young orphan that Peter Jackson discovered living off scraps in the Wellington sewer system (not sure about the authenticity of this wikipedia bio) and for some reason chose to direct a movie of the video game "HALO." But the money fell through on that one so director Blomkamp and producer Jackson said "Fack it" (they both have accents) and made a lower budget sci-fi movie free of video game heritage, an extension of Blomkamp's '05 short film ALIVE IN JOBURG.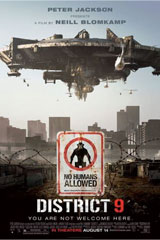 The trailers for DISTRICT 9 have been intentionally vague and mysterious. They still didn't make me too interested in the movie but then the unanimous nerd raves started hitting and I got my hopes up. Drew McWeeny compared it to seeing ROBOCOP for the first time, for example. I don't think it's anywhere near that good, but it's undeniably an original and well put together movie with many thrills, laughs, a few truths, and impressive but completely organic special effects harry pottery ("wizardry" is overused so I made up that word). I was surprised to learn that Jackson's company Weta was busy with AVATAR so they only did the mothership. The aliens were all done by a company in Vancouver. Same place where movies that take place in Seattle are always shot.
This movie doesn't have Seattle in it though, it takes place in an alternate Johannesburg where 20 years ago a huge spaceship showed up and just floated above the city. After it sat there for a while the South Africans went up and cut that bitch open and found a bunch of starving CGI aliens that looked like bug people or shellfish with big dewy eyes. So they brought them down and fed them cat food but everybody was disgusted by their appearance so they locked them in a ghetto where they lived in filth and crime became rampant. Also super heroes are real and Nixon is still the president.
(One thing I never figured out is if apartheid also was going on during this alien business, or whether this happened in place of apartheid. Maybe it brought the races together. Black and white South Africans seem to share in their prejudice toward these aliens they call "prawns.")
The movie unfortunately (if you ask me) is told mostly in the form of a documentary, complete with expert interviews, file footage etc. A camera crew follows the dipshit recently-promoted bureaucrat in charge of relocating the aliens from District 9 to a concentration camp. A ways in the movie begins to slip out of the mockumentary and show some aliens inside their house and some other things that they don't expect you to believe were caught on tape. But even then it keeps switching to newscopter footage and security cameras every once in a while.
The fakeumentary style is done perfectly. The experts and newscasters and everyone all seem completely authentic (one possible exception being that they explain things that everybody would know if they lived in a world with aliens). And it does help to create a realistic texture to this world that you don't get in, say, STARSHIP TROOPERS. Seeing these CGI aliens perfectly integrated into shaky video footage makes them seem real.
But still, can we fuckin retire this technique now? Can this be the very last one? It's not a novelty anymore, fellas. We've seen it. Let's move on. Time for real movies again. Tell a story through situations and conversations, not through a guy looking into the camera describing it. I know it's not exactly the same approach as BLAIR WITCH or CLOVERFIELD (it's not supposed to be from one camera), and it's not painful like DIARY OF THE DEAD. But it's a gimmick, to me it gets in the way of telling the story.
You know what it might be? When you watch a movie like WAR OF THE WORLDS, you might suspend your disbelief and pretend that what you're watching is real. When you watch this though you have to pretend not only that this world is real, but that you are sitting in a theater in that world, watching a documentary about recent events. I think that's too many layers there, it ends up pulling me out of the story instead of into it. Or maybe all that pretending is a little too role playing, a little too cosplay. Whatever it is, about halfway through the movie I was really sick of it.
Luckily that's exactly when our dumbass human protagonist Wikus is forced to team up with an alien with the legal name of Christopher Jones and you realize that Blompkamp is finally done with all the setup and explanation and now the story can really kick in. And that's when I felt like I was watching this great movie that the nerds are talking about. (Of course, this is the "standard action movie" part that the less enthusiastic reviews all complain about.)
The most ingenious aspect of the movie is this character of Wikus. He's not a traditional hero in any sense. He's a huge asshole and not in a cool way like Ash or Jack Burton or somebody. I think the closest comparison is actually Steve Carrell on the USA version of THE OFFICE – just a deluded boob showing off for the cameras. He seems to think he's a humanitarian but in the first section of the movie he's casually racist and even genocidal. In the most disturbing scene he destroys a shanty full of alien eggs while mugging for the camera and explaining how to do it like it's some neat information for the viewers at home to enjoy. He gets that person-in-authority arrogance as he goes around to these homes trying to get aliens to sign a form consenting to being evicted. He loses track of what a shitty thing he's doing and thinks they're the bad guys for not making his job easy.
Obviously the movie is partly based on apartheid, which Blomkamp saw growing up in Johannesburg. But it would be easy to show the people as loud-mouthed bigots, human supremacists. Blomkamp makes it more true and unsettling by having characters who are completely clueless about their prejudice. They got these aliens crammed together living in poverty and then when some of the aliens act a fool the humans use it as evidence that they're inferior. In fact the movie cleverly makes you look at them with racist eyes yourself. They look like monsters, they speak in clicks (with subtitles), you see them dumpster diving and rioting, sometimes acting up MARS ATTACKS! style, and you don't really have any context. When Christopher is first introduced he seems like a terrorist up to no good, but by the end he's one of very few good people in the movie.
In his review Roger Ebert says "What Neill Blomkamp somehow does is make Christopher Johnson and his son, Little CJ, sympathetic despite appearances. This is achieved by giving them, but no other aliens, human body language, and little CJ even gets big wet eyes, like E.T." I think the actual difference between the portrayal of the Johnsons and the other aliens is that they're the only ones we really see outside of the documentary style. The rest are nameless faces we see in clips somebody caught of a riot or a crime. They interview plenty of humans about the aliens but they never interview a single alien. They're not trying to be racist, in fact quite the opposite, but they still don't understand these aliens, they don't relate to them, and when we see the aliens through their documentary they're not people, they're subjects. It's only when the movie magically goes out of mockumentary mode that we see what they're really about.
And I think I just talked myself out of being against the documentary style. It makes an important point. But still, last one guys.
I remember when I first saw STARSHIP TROOPERS I was surprised by how much violence they got away with, but that's because it was mostly bugs getting blown up. In this one almost all the violence happens to humans. The alien weapons just make them pop like balloons. It's not pretty.
It becomes pretty clear at the end what a sequel would be called if they made one. But I'd like to see them back away from DISTRICT 10 and actually call it DISTRICT 9 2, just so 976-EVIL 2 wouldn't seem lonely. Also, why don't they start doing letters in sequel titles? If Rob Zombie doesn't want his movie HALLOWEEN II to be confused with Rick Rosenthal's movie HALLOWEEN II he shouldn't use the same title, he should call it HALLOWEEN B.
Anyway, according to interviews Blomkamp is open to a sequel but doesn't necessarily plan for it to be about what the end of this movie implies it would be about. I would like to see what happens with Christopher, but if not, so be it. All I ask is that you abandon the fake documentary gimmick. You were a caterpillar but now you are a butterfly. Fly away and leave that fake interview shit on the ground next to the used cocoon.
This entry was posted on Monday, August 17th, 2009 at 1:11 am and is filed under
Reviews
,
Science Fiction and Space Shit
. You can follow any responses to this entry through the
RSS 2.0
feed. You can skip to the end and leave a response. Pinging is currently not allowed.