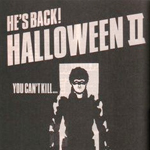 HALLOWEEN II is… not HALLOWEEN. But I guess that's why they added the "II" on it. I should've caught that.
Continuing immediately from the end of John Carpenter's genre-defining much-imitated timeless unkillable masterpiece classic, and using most of the same crew (including cinematographer Dean Cundey), it's able to imitate the style enough to recapture the feel sometimes. Other times it just emphasizes how outstanding and impossible to duplicate Carpenter's touch was.
To be fair, this was written and produced by Carpenter and Debra Hill, scored by Carpenter, who also chose the director, Rick Rosenthal (who later ended the series in disgrace with HALLOWEEN: RESURRECTION) on the basis of a short he directed. Then, when it was filmed and Carpenter didn't think it was scary enough he went and shot gorier death scenes. So he has a hand in it, for good or bad.
This is one of the rare sequels that just continues exactly from the ending of the last one. So it starts by replaying the ending of the original, where Dr. Loomis (Donald Pleasance) shows up to rescue Laurie (Jamie Lee Curtis) by shooting Michael "The Shape" Myers (in the new footage played by stunt coordinator Dick Warlock, the only major cast change), who then disappears. I always wonder if the end of HALLOWEEN, a series of shots of empty locations, was meant to imply that Michael could be anywhere, or that he IS everywhere. But part II goes with the first choice. He snuck off.
The sequel proper begins with an excellent steadicam P.O.V. sequence. Carpenter has his scene from the point-of-view of young clown-costumed Michael spying on and then murdering his sister on Halloween night. Rosenthal has adult Michael walking around dark Haddonfield unseen by unsuspecting suburbanites. We hear his breath, the dogs barking and nearby cars driving by as he walks through an alley and looks into people's homes. Some of the innocents he comes across are doomed, most will not know how close they came, or that they walked right past him without noticing his presence. (read the rest of this shit…)