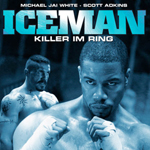 Nine years ago when I caught up to UNDISPUTED II: LAST MAN STANDING I declared it the first DTV sequel better than its theatrical predecessor, and I finally understood the internet love for its star Michael Jai White, who I'd previously thought of as the guy from SPAWN. But I still didn't appreciate it nearly as much as I do now. Yesterday's pleasant surprise has become today's under-recognized genre classic.
Since then we've seen White star in more vehicles worthy of his talents (BLOOD & BONE and BLACK DYNAMITE being standouts), we've seen choreographer J.J. "Loco" Perry further make his mark with HAYWIRE before moving up to giant movies like FATE OF THE FURIOUS, and we've seen villain Scott Adkins grow into a martial arts icon in his own right, often working with this same great director, Isaac Florentine (NINJA, NINJA II: SHADOW OF A TEAR, CLOSE RANGE).
But even looking back, UNDISPUTED II is not a stepping stone to greatness. It's an example of it.