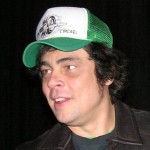 Not to be confused with THE HUNTED (starring Christopher Lambert) or BENJI THE HUNTED (starring Benji)
Early in William Friedkin's THE HUNTED we are introduced to its hero, L.T. Bonham (Steven Seagal), an expert in tracking, knife fighting and wilderness survival who used to train special ops soldiers in these skills. As he learned that the guys he was training were being sent to assassinate people for purely political purposes he grew disillusioned and quit. So now he's in the BC wilderness where we see him track an injured wolf through the snowy woods, get the trap off of his paw, chew up a root and rub it on the wound as a homeopathic healing agent. Then he tracks the responsible poacher down at a tavern, bangs his head against a table and tells him never to do it again.
Oh wait, did I say Steven Seagal? Actually L.T. Bonham is played by Tommy Lee Jones. I was surprised how much of this movie reminded me of Seagal, though. The story is about a special ops badass (Seagal– er, I mean Benicio Del Toro) who comes back from Kosovo totally wacked out and kills some guys, and Tommy Lee Jones (UNDER SIEGE) is the guy who trained him so he has to help catch him. So I thought it was gonna be like FIRST BLOOD meets THE FUGITIVE. Not Steven Seagal meets Steven Seagal.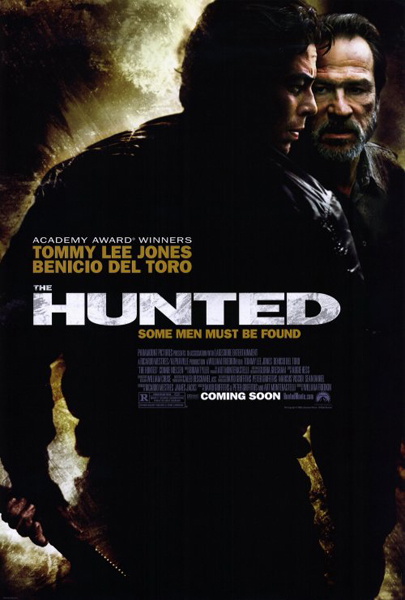 Unlike FIRST BLOOD there's not alot of build to this guy snapping, not alot of pushing him too far. There aren't circumstances back home that make him go crazy, it just happens because Kosovo was so bad. Friedkin pretty much depicts Kosovo as Hell, the whole place lit orange from flames. It's kind of a surreal opening because it starts with Johnny Cash's voice reciting a poem about God and Abraham. And it throws you off balance when some action movie starts out narrated by Johnny Cash. He could be the voice of God, or of the movie's narrator, or of Uncle Jesse from DUKES OF HAZZARD. Whatever he is he's a weird person to welcome you to an action movie. But he's Johnny Cash, so you trust him.
When Benicio gets back stateside he of course hides a Bible in a tree and lives in the woods and then slaughters a bunch of heavily armed killers using only a knife and maybe some mud or leaves or something. Friedkin cleverly leaves it up to you to decide whether the dudes were actually government "sweepers" there to take him out, as Benicio swears, or innocent deer hunters with overly powerful weapons, as the FBI will later claim. At any rate the FBI guilts Tommy Lee into going after him because he's the world's best tracker. He's the best guy for the job even before he figures out that the killer was one of his students. He taught him this wilderness survival shit, he taught him stealth and tracking, and worst of all he taught him some badass knife fighting techniques where you kill a guy like 9 different ways in five seconds.
And I wasn't joking about that wolf tracking scene. You tell me that's not a Steven Seagal character. It could be William Lansing, Seagal's character from OUT OF REACH, who is retired from the game, disillusioned, and tracks an injured bird through the woods. But that was a year after THE HUNTED so instead I will cite the precedent of Dr. Wesley McClaren of THE PATRIOT, which came out 5 years before THE HUNTED. McClaren is retired from the game, disillusioned, helping animals and people in Montana. In the opening he tracks a sick pony and gives it homeopathic medicine.
And I love that followup where he confronts the poachers. When the guy's buddies jump up for a fight Tommy Lee holds out one finger so commandingly that they all back down. And you don't blame them. I mean, if you digitally put Seagal's face onto Tommy Lee, you could take this scene and put it anywhere in ON DEADLY GROUND and it would seem right at home. It's also vaguely reminiscent of the end of OUT FOR JUSTICE, where Seagal tracks down the guy who threw a dog out of a car and kicks him in the nuts.
Del Toro's character has some Seagal in him too. He's like THE GLIMMER MAN, trained to be deadly and invisible, considered to be "off the reservation," framed and hunted by the agency that created him because he knows too much, has a relationship with a woman and a little girl. That's about the only thing that keeps it from being a Seagal movie is that you have two of these type of characters, evenly matched, facing off for the entire movie. Seagal has to have the pyramid structure where he works his way through many bad guys and gets to the top. He doesn't do a one-on-one. If it was a Seagal movie he'd be forced to play both characters, they would have to rewrite it so they're twins or something.
I wonder if anybody told the Oscar winning director and the two Oscar winning stars that they were making a Steven Seagal movie? Even stylistically, early on, it has a bit of the feel of those European espionage DTV movies Seagal does. And Del Toro does a couple weird things that are easy to imagine in a Seagal movie. For example when the sweepers/hunters are confronting him in the woods he hides somewhere and loudly whispers "If you kill with your bare hands there is a reverence" as if some spirit in the woods is reciting warrior cliches.
Because it's a Friedkin movie though it's inspired by a real guy who really has that job, who worked as a consultant on the movie. So the tracking scenes are pretty cool. Friedkin does it the old fashioned way, using pictures to show things in a movie instead of the new way where you wave the camera around and make sure you can't tell what is happening but then maybe somebody explains verbally what's happening. With this one Tommy Lee will be in a woman's house, she claims Benicio is not there, Tommy Lee looks at the sink and there is a closeup of a little bit of soap with hairs in it from shaving. (don't worry, it appears to be stubble, not pubes)
Unfortunately, because they do it this way they have to exaggerate it so that we non-master-trackers know what we're looking at, and this is one of the movie's weaknesses. Benicio is so obsessed with tracking that he teaches a little girl how to read squirrel tracks, and he knows he is being chased by the world's best tracker, the guy who taught him. And yet he leaves perfect muddy shoeprints on the kitchen floor of the place he's hiding out at. When he climbs out of a manhole he not only leaves the lid open, he throws his construction helmet on the sidewalk, showing which direction he went. Can't even be bothered to throw the helmet into a garbage can or across the street where he's not going.
Del Toro is a brilliant actor and a lovable weirdo. He's pretty convincing both at being a deadly knife fighter and at being crazy. But something about him here, I don't know. He's so weird and distant it's hard to really empathize with him, but he's not evil so you don't want to root against him. Tommy Lee is much more sympathetic, an interesting character somewhere in the middle between the blowhards he used to play and the quiet guys he plays now. When he's tracking he's kind of a hunched over weirdo scurrying around like a man-sized mouse, looking for clues. Then when he's threatened his entire physicality changes and you believe he could stab a guy to death even if he forgot his knife.
Which brings me to the knife fights in this movie, which are classics. There are a couple different fight scenes and they are topnotch, especially considering how much of it Jones and Del Toro seem to really do themselves. Catching up with this movie four years later I'm surprised to realize it's one of the best action movies of the 2000s. That doesn't mean it's a classic, because the competition ain't that fierce, but it's a pretty good one. There are some interesting characters and ideas here but even if you don't like them you will love the action. There's even a William Freakin' Friedkin car chase to add to the list with FRENCH CONNECTION and TO LIVE AND DIE IN L.A. Okay, it's not on the same scale as those two but it's got a great gimmick where he gets stuck in gridlock and has to ram his way out.
So don't write off Friedkin yet, and don't write off action movies. THE HUNTED may not be perfect but it's something more important: hard evidence that good old fashioned action movies are still possible in the 21st century. No CGI, no Avid farts, no jokin around and muggin. Just a couple interesting characters chasing each other and trying to stab each other, just like it oughta be.