BRINGING OUT THE DEAD is Martin Scorsese at his most nightmarish and hallucinogenic, a movie almost entirely in helicopters-overhead-paranoid-end-of-GOODFELLAS mode. That's 'cause it's about night shift EMT workers, which I think we can safely assume is probly a pretty stressful job. The movie is written by Paul Schrader based on one of those "this job is fucked and we're all on drugs" type exposes, like Kitchen Confidential was for chefs.
Man of the hour Nic Cage plays Frank Pierce, who doesn't get enough sleep and thinks he sees the ghosts of everyone he's failed to save. He has a hard time feeling like a hero since most of the calls he gets are DOA or false alarms. He's always doing CPR on dead babies or begging the hellishly overcrowded hospital to take in a vegetable. He's so tired of bum-out cardiac arrests ("COME ON, PEOPLE!" he scolds) that he's happy dealing with the notoriously foul-smelling drunk Mr. O, who calls in every time he's wasted. The one time Frank does succeed in resuscitating a guy he feels guilty about it and imagines the man telling him to let him die.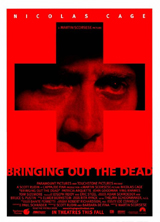 The story takes place over just a couple days as Cage gets through shifts partnered with John Goodman (more interested in getting food than taking calls), Ving Rhames (does religious sermons during CPR, calls everybody "young man," sexually harasses a dispatcher voiced by Queen Latifah) or Tom Sizemore (total nutbag who beats up a patient and chases him around trying to "catch him" for fun. Seems pretty true to life). Frank also runs into some colorful characters like a suicidal lunatic (Mark Anthony of THE SUBSTITUTE) who he convinces to come in by telling him he'll kill him back at the hospital, and Cliff Curtis (LIVE FREE OR DIE HARD) as a drug dealer who ends up impaled on a fence 16 stories up admiring the beauty of the sparks as the first responders try to saw him off. You know how that is.
Alot of it plays as very, very black comedy. You gotta laugh at the sight of Nic Cage in the passenger seat wearing an oxygen mask and explaining the cocktail of vitamins and adrenalin he's cooked up to self-medicate with. Or when they flip the ambulance and crawl out laughing and Cage just leaves on foot, saying he quits. Every day he shows up late and tries to convince his boss to fire him for it, but no such luck.
Adding to the feverish feel is a bag of Scorsese tricks – sped up shots, closeups of Cage's face as he flies down the streets, shots of city lights that make youre eyes glaze over just like his. There are some disturbing hallucinations (everybody on a block turning to look at him with the face of the homeless girl he failed to save; a snow scene shot with everybody moving backwards and then played in reverse). It's show-offy but feels comprehensible and controlled, like a Jackson Pollock to Tony Scott's monkey throwing feces.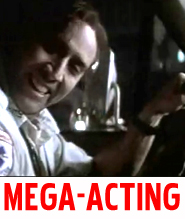 What's more, the subject matter is genuinely upsetting. The pulse checking, the shooting up, the dying babies, the shocking of dead bodies, the fact that you can understand why EMTs would be like this but then it's terrifying to think that's who you're counting on. None of this is exactly baby ducks and cupcakes, in my opinion. This movie will fuck you up. I can't help but think about it as I look out at my window where the EMT's are checking on the drunk who always passes out on the same corner of the same parking lot. One of their long time customers – that can't be a peaceful life. I wonder if we should start tipping those guys? You know, just as a nice gesture. Thanks for knowing CPR, guys, sorry about the night terrors.
When Latifah's voice isn't the dispatcher it's Scorsese's voice. And there's something fitting about the director sending his characters on missions from inside the movie. (I wonder what would happen if the dispatcher went to a bar and got a drink from Mr. Woo who was in HARD BOILED?) Hearing Scorsese's own voice reading jokey dialogue reminds you that this is an unusual Scorsese movie. But he's not, you know, radioing it in. It's a couple long nights in hell, and at the end you want to cry and take a nap.
This entry was posted on Thursday, January 28th, 2010 at 3:23 am and is filed under
Comedy/Laffs
,
Drama
,
Reviews
. You can follow any responses to this entry through the
RSS 2.0
feed. You can skip to the end and leave a response. Pinging is currently not allowed.