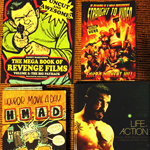 I don't know about you guys, but I have kind of a hard time keeping up with all the books. I love them but I put so many of my spare minutes into watching and writing about movies (and checking Twitter, sadly) that I end up with stacks of beautiful tomes sitting around only partially read. That's fine, that's life, you can't do everything. But these piles of people's passions weigh down my soul with guilt because I know I meant to plug some of them.
As somebody who writes books about movies myself I know this is not exactly a path to riches, so I respect anyone who goes through with it. You gotta really have a passion for the subject to get it done, and there are not enough authors doing that for the kind of movies we love around here. I'm never gonna become a book reviewer, but I do want to showcase some of the ones I have here because in my opinion people are less likely to buy your book if they don't know it exists. The chances of them accidentally ordering it are pretty slim, I have found. Most people would have to buy your book on purpose.
So I'm about to notify you of some things that exist, and I apologize to a couple of these authors for not doing so earlier.
First up I should mention Straight to Video: An Anthology of B Movie Awesomeness, edited by Kent Hill of Australia. He recruited me to write the introduction, so that means he must have good taste (I think?). It's a collection of 17 short stories and poems that are presented as sort of B movies that never were, inspired by genre movies of the VHS era. Titles include "The Moon Lake Witch Club," "Vegetable Massacre of Death U.S.A." (it's the U.S.A. that makes it work, in my opinion) and "The Refulgence of Ian Ziering." My introduction is some flowery words about my love for browsing video stores and finding weird covers. If you like this one, Kent already has two sequels, The Sequel: Straight 2 Video and Conquest of the Planet of the Tapes: Straight to Video 3.

Danny Marianino sent me his book The Mega Book of Revenge Films Volume 1: The Big Payback forever ago. Sorry, Danny, for taking so long to post about it. I hope he doesn't get revenge on me for that.
Like the title implies, this is a large book full of capsule reviews of revenge movies. Danny reminds me a little bit of Harry in his combination of unbridled enthusiasm and volume of movies seen. I was confused by some of the organization, and it's not really the kind of writing I personally look for in a book like this, but some people may enjoy its excited-guy-talking-over-beers kind of casualness. To me its biggest strength is as a list of movies to possibly check out. I know about many of them that might be considered obscure in some circles – he has ONE MAN'S JUSTICE, THE EXECUTIONER PART II and the SNAKE EATER trilogy for example – but there are plenty I never heard of that I took note of to consider renting. He also has a grab bag of different things mixed in like a handful of interviews (including Martin Kove and Lance Henriksen) and a couple pages on Rambo ripoffs. Also I like that the section "Eight Films That Explain Why Steven Seagal Straight Up Rules" includes four of his DTV releases. No snobbery here.
After receiving the book I looked up Danny and learned that he has some internet fame for an old video where he punches out Glen Danzig. He wrote a book about that also. Here he is promoting it on some local news show:
Next up is Life of Action: Interviews with the Men and Women of Martial Arts and Action Cinema by Mike Fury, a young British martial artist and writer for various martial arts related magazines and websights. This I suspect is the first ever book to have Scott Adkins as Boyka on the cover. I believe Adkins was Fury's first inspiration to make this book, which he dedicated to his dad and to the late Darren Shahlavi. So that gives you an idea how much this one respects the type of movies that go straight to video and and most people ignore them while people like us are checking IMDb to see who the fight choreographer was.
It's a big paperback with color photos throughout, and it's divided into three sections: Actors, Stunts and Filmmakers. Interviews include Adkins, Shahlavi, Dolph, Richard Norton, Cynthia Rothrock, Robin Shou, C-HT, Don "The Dragon Wilson", Donnie Yen, Andy Lau, J.J. Perry, both of the JOHN WICK directors (in the stunts section, and before JOHN WICK was released), Isaac Florentine, Carlos Gallardo, John Hyams, Jesse V. Johnson, Tsui Hark, and many others that are maybe lesser known. I like that because it's good to learn about other people I should look out for.
Rothrock talks about getting her start in a Kentucky Fried Chicken commercial. Shahlavi reveals that as a stuntman he has a small fight with Tom Cruise in MISSION: IMPOSSIBLE – GHOST PROTOCOL. Shou says he plans a martial arts sort-of-remake of Paul Schrader's HARDCORE with Prachya Pinkaew. Stuntman Paul Lazenby discusses not going as far as he'd hoped in the world of pro-wrestling but then becoming the stunt double for Stone Cold Steve Austin. Chad Stahelski tells us about being Brandon Lee's double in THE CROW. So there's tons of good material here.
When my friend david j. moore's new book The Good, the Tough & the Deadly: Action Movies & Stars 1960s-Present
(which is an exhaustive review collection in addition to his interviews) comes out soon I suspect in my biased opinion it will be the definitive b-action guide. But even if that's true I think Fury's book here will continue to be an important resource, particularly for documenting our current era of martial arts movies.
Last but most, but also the least needing of publicity it seems to me, is Horror Movie a Day by Brian W. Collins. You may know Collins from his column Collins' Crypt on Birth.Movies.Death, or from his blog with the same name as the book (HMAD for short). From February of 2007 through March of 2013 this madman watched one horror movie every day, and he wrote his thoughts about them. Originally he had challenged himself to do it for one year, which seems crazy in itself, but then he decided to keep going.
Of course he was already a horror fan, he was well versed in the classics, and he was watching movies he hadn't seen before. Therefore, mathematically, he watched mostly crap. But a primary reason to do it is to find unknown gems (like me watching so many bad DTV sequels before UNIVERSAL SOLDIER: REGENERATION came along) so the premise of the book is to offer one horror movie worth watching for each day of the year. The format includes a "Synopsis Based on Fading Memory," then an excerpt from his original review, then some more polished thoughts from today. And he has a different theme for each month: February is slasher movies, March is killer kids, July is indie horror, etc. May's "Batshit Crazy Horror" ranges from THE MANITOU to MY SOUL TO TAKE. (One cool thing about Collins is he's even more into MY SOUL TO TAKE than I am.)
Collins was nice enough to send me an ebook copy which is distributed by Birth.Movies.Death, but I ordered his self-published hard copy for myself when it was ready because this is the kind of big fat book you want to hold in your hands or, for some people, have in your bathroom. (I would never disrespect it like that but I'm open to other religious beliefs.) This is a really fun book that's actually ideal for my failing-to-read-all-my-books lifestyle because it's great for flipping through, even though I am legitimately working on reading it in order too. It's great to get suggestions from someone whose experience with obscure horror crap dwarfs my own.

So in conclusion these are some books that exist. You can look into them if they sound interesting. I'll see you next week with some new movie reviews that will knock your pants off or whatever. Thanks everybody.
This entry was posted on Friday, April 29th, 2016 at 4:16 pm and is filed under
Blog Post (short for weblog)
. You can follow any responses to this entry through the
RSS 2.0
feed. You can skip to the end and leave a response. Pinging is currently not allowed.