In SNAKE EATER, Lorenzo Lamas plays a cop named Soldier Kelly. And it seems like that's his given name, because even his sister calls him that. I don't know if having that name subconsciously affected him or not, but he did grow up to become a soldier in the elite "Snake Eater" unit of the Marines. And he must be proud of this 'cause he always wears a belt buckle with a snake on it.
In 1989, while the rest of the world is busy listening to "Batdance" and trying to decide whether to watch Arsenio Hall or Pat Sajak, Soldier's stateside doing undercover drug busts. We first meet him alone in a crack house singing "Kumbaya" and ranting to himself to make the stakeout guys in the car outside uncomfortable. If you're ever trying not to get spied on by the cops, by the way, take a quick look around for two middle aged guys wearing ties sitting in a car all day drinking coffee and eating sandwiches. In this case they're out there listening on the wire, one wondering who the fuck this crazy new guy is, the other running down Soldier's full Just How Badass Is He? bio:
"He was a marine. One of the elite… Y'know, you gotta be one tough sonofabitch to make it in the Snake Eaters, and from what I hear this guy Kelly, he was one of the best: tough, imaginative, and a real fighter."
Or as the trailer narrator puts it, he's a "one man justice squad."
A little later he gets a Just How Rebellious Is He?:
"The Marines are right, you can't take orders! You're an oddball! You're some kinda  nutcase! Turn in your badge, you're on suspension!"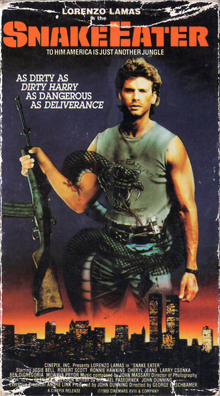 This opening undercover scene is a great introduction to the character, not just because of that explanatory dialogue, but for at least three other reasons:
1. When a gangster's moll wants to check him for a wire he convinces her to take her clothes off too and have sex with him right then and there.
2. He lets his partners believe the wire was hidden up his butt, even though it was in a special hairpiece.
3. He takes out 2 guys with booby traps, including hundreds of nails that pop out of the floor and a net that catches humans like they're animals.
The irreverent introduction to Soldier continues as a motorcycle crash sends him flying head first into the outdoor seating area of his favorite biker bar hangout. And then some big asshole who carries around a pair of pliers and a necklace of human teeth wants to fight him for it. His friends decide not to intervene. The movie has a sense of humor that's not really executed as well as it could be, but it's still fun.
The dark side comes in out on a lake boat where a family of inbred psychopaths harass a non-inbred family of three on their boat, blow up the parents and kidnap the daughter. We come to learn this was Soldier's family, so him being on suspension turns out to be a lucky break. He won't have to build up his vacation hours to go on a rescue and revenge mission.
So Soldier goes tracking his sister, quickly gets into some scuffles with the inbreds, finds a girlfriend, etc. An old ex-biker converts Soldier's Harley to a jet ski without his permission. At first he's mad, but obviously it comes in handy. I mean, who couldn't use one of those?
Weirdly, there's a part where one of the kidnappers tries to get the sister to eat a snake. He doesn't even know there's a Snake Eater after him, so it's just a coincidence. But she doesn't eat it, so the title is not a double meaning. (SPOILER)
Once all the revenge and everything is over with Soldier goes back to his job of being a cop who plays by his own rules. He terrorizes an arsonist played by Horshack from Welcome Back Kotter. The end.
There's a real good end credits song with lyrics like "Soldier, where's your sister / Can you hear her helpless cries? / The only light to guide you now / Is the fire in your eyes."
The script is by Michael Paseornek & John Dunning, two major figures in Canadian exploitation cinema. Dunning co-founded the company Cinepix, which made this and most other Canadian genre movies. It later turned into Lionsgate, which Paseornek is the president of.
I gotta say, Lamas is pretty good in this. He's pretty funny. I guess he's supposed to be sort of the Mel Gibson in LETHAL WEAPON type of funny-crazy-guy-cop. He gets a few intentional laughs. I remember Lamas from that TV show Renegade, when he was more of a muscly, long-haired Fabio lookin motherfucker. In this one he reminded me more of Treat Williams and Scott Foley (the younger guy on The Unit, I believe he might've also been on that show Felicity but it's hard to say for sure). Hopefully soon those three will play a father-brother-son bounty hunting team.
Of course the movie is cheesy and ridiculous, made up of the laziest action movie cliches with little attempt at authenticity. But it's pretty knowing about it, its kinda tongue in cheek. That's arguably a bad thing, it might be funnier if it was dead serious. But it's an enjoyable movie. The only real problem is that the last 2/3 doesn't live up to the great opening section. I guess that makes it the WALL-E of late '80s Canadian action.