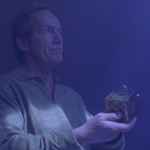 The penultimate HELLRAISER, Rick Bota #3, is not really better than the previous DTV entries, and definitely way worse than any of the theatrical releases, but after three pretty samey ones in a row it was briefly refreshing to see the series, for the first time, try to pander to dumb young people. Elements include: an addictive internet game, an exclusive invite-only theme party, teen suicide, masked orgies, cell phones. Coming only 3 months after DEADER and from the same director it's nice that it's crappy in a completely different way.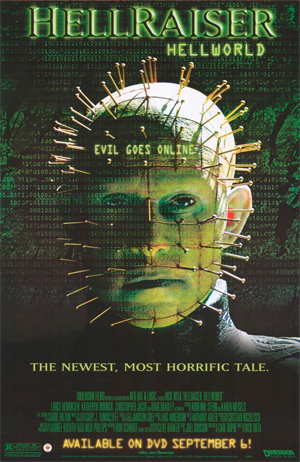 In the interim, LAND OF THE DEAD and THE DEVIL'S REJECTS had come out. That's about it. Impossible to detect a change in the horror landscape. Instead of sticking with the times I guess they wanted to pull a LAWNMOWER MAN or BRAINSCAN type deal and base it around computer technology, so that the movie would already seem laughably dated and out of touch by the time it was finished editing.
The story is about a group of twenty-something friends (and one ex-friend) whose buddy Adam has just died horribly. We don't know how it happened, but it had some connection to their shared obsession with a video game called Hellworld.
Two years later they're thrilled to solve a virtual Lament Configuration and get invited to "a Hellworld party!!!" at a mansion on "86 Hillbound Drive." It's hosted by the great Lance Henriksen, who has a collection of puzzle boxes and weird babies in jars and claims the mansion was designed by LeMarchand, all of which delights his guests. There are young people dancing, drinking, mingling, some of them topless or just having sex right out in the open like it's EYES WIDE SHUT. The host gives them all a cell phone and a paper mache mask with the phone number on the forehead so people will call and proposition each other. (read the rest of this shit…)