It is a time of economic turmoil. The gap between the haves and the have-nots keeps getting wider and wider, like a hippopotamus's mouth when he yawns. Hard-working people hit some bad luck and they lose their homes, property and life savings to the banks. Anger rises, and in the face of cruel systems too complex for guys like me to understand, it's easy to fall into simplistic stick-it-to-the-man sentiment. These faceless institutions seem to be crushing people under their boots, and we want revenge. If a company can have the rights of a human being, it ought to feel the pain of a human being. We want it to suffer.
Am I talking about today? No, I'm talking about the Great Depression, as depicted in the movie BONNIE AND CLYDE. Arthur Penn directs Warren Beatty and Faye Dunaway as the legendary armed-robber couple whose sex appeal and brazen outlaw lifestyle made them a media sensation in the early '30s. You know come to think of it though I did say "we" a bunch of times, as if I was talking about us right here, the people alive now, that seems a little misleading if I was really talking about the movie. We're not in the movie, we're in today. Wait a minute, maybe I really was talking about today? I think maybe I was. Ah, shit. I can't remember anymore. I get them mixed up. Man, I really fucked up this opening. Forget about this. Let's start over.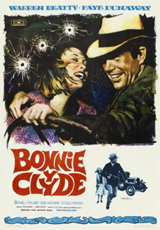 The movie opens with Clyde Barrow snooping around a car. Young Bonnie Parker can be seen through the window of the house, getting dressed. She comes down to ask why he's fucking with her mom's car, he hits on her and buys her a Coke, which she proceeds to gently caress with her lips in one of the more blatant "would you care for a blowjob?" hints in mainstream cinematic history. But Clyde doesn't jump on that, making you wonder why he possesses such masterful pick-up techniques if he's afraid to cash-in. It just doesn't seem fair to everybody else.
Instead he proves to her that his stories about armed robbery are true – he does it right in front of her. Bonnie is so impressed that she leaves home to be Clyde's beau and literal partner in crime. Clyde and Bonnie make a good team for a while, they're like the original Bonnie and Clyde. Or I mean they are Bonnie and Clyde.
This was a revolutionary film at the time. It helped give birth to the modern film, in my opinion. It's very cinematic, willing to leave things quiet or unsaid. Its sympathetic portrayal of these anti-heroes spoke to feelings of the time, the way these people are fighting against a system or what have you. And at the end when (WARNING – HUGE SPOILER FOR BOTH MOVIE AND HISTORICAL EVENT) Bonnie and Clyde are gunned down like dogs (if some sonofabitch was cruel enough to pump 130 rounds into a couple of dogs in front of a fancy old car) was considered shockingly graphic at the time.
I do think it's one of those ones that suffers from being imitated and rehashed so many times over the years. Alot of elements have become old cliches by now: the criminals who want to be famous and have their picture taken for the papers (THE HARDER THEY COME, CITY OF GOD), the true story bank robber who becomes folk hero for appearing to oppose the system (PUBLIC ENEMIES, STANDER, NEWTON BOYS). I guess the part that's a little more unusual is the whole deal about Clyde being impotent. I don't know, I think it plays better as him just being weirdly prudish and not liking sex. But most people seem to take it as he can't get it up, but then when he does some robberies he can do it, he can get the proper blood flow. O.G. Viagra. And that's kind of silly so I guess if you take it that way then you have to take that as a metaphor, that men (symbolized by Clyde) cannot feel confident in themselves (symbolized by Clyde's lack of a boner) until they… I don't know, push people around, threaten people with violence, exert their power on others – whatever bank robbing symbolizes. I don't know, all that impotence vs. boner shit seemed real edgy and profound in those days. Doesn't do much for me now.
But fuck it, this is still a real entertaining movie. I like it for the swagger of young Beatty, and the beauty of young Dunaway. She has one of those faces that's so womanly it's hard to believe she's in her early twenties. You look at her young and it's like she just isn't ripe yet, instead of seeing her now and thinking it's that young lady now aged and weathered. (that sentence made sense to me. deal with it.) I like Michael J. Pollard as the poor sucker who gets wrapped up in the Barrow Gang and gets no credit, it's just Bonnie and Clyde. Not pictured: unidentified accomplice. And he wants to be this big shot armed robber but his dad fucking tattles on him. Can you believe that? "Your dad tattled on your gang" is the Depression era bank robber equivalent of the modern nerd's "you live in your mom's basement" insult.
I also love Clyde's relationship with his brother, played by Gene Hackman. The way they whoo hoo and holler and wrestle each other on sight to show affection. And it's so obvious from moment 1 that his square wife is gonna fuck things up. So it creates tension and some moments of hilarity when she's running around screaming during a robbery. And you side with Bonnie in her bitchy feud with that gal. But actually she does better than expected, even if she gets blinded and then tricked into giving up important info. That's a real good scene when the deputy (played by Uncle Jesse from the Dukes of Hazzard) gets her to tell her story and then just walks out of the room as soon as he gets the name he needs, and the poor girl keeps talking thinking somebody is interested. And that's kind of his revenge for being humiliated in that earlier, equally real good scene where Bonnie and Clyde fuck with him by tying him up and posing for pictures with him.
But of all the real good scenes my favorite goes back to what I was talking about at the beginning there. Bonnie and Clyde are practicing shooting behind an abandoned house. Suddenly a man is there, and Clyde points the gun at him. This guy doesn't mean any harm. He explains that he used to own this house, but the bank took it from him. Him and his family just stopped by for one last look. Clyde stops being cautious about the guy, becomes sympathetic, and takes a shot at the house. Then he gives his gun to the guy and lets him take a shot. Next thing you know he calls over his black servant to take some shots because he put alot of work into this house and he lost it too. And Clyde says, "This here's Miss Bonnie Parker. I'm Clyde Barrow. We rob banks."
So here are these two groups of people who just met, causing some cathartic, harmless destruction together, taking out their anger on a system that has done them wrong. I think Clyde is realizing that banks can be vicious, and retro-actively coming up with a justification for what he just enjoys doing anyway. And suddenly he's thinking wait a minute, I'm some kind of hero, aren't I? He's so convinced by this that he brags about it to these strangers. "We rob banks." Gives his real name and everything. And this is before they've really gotten very far in their spree, he's already got loose lips.
In that moment it doesn't matter that they're not really crusaders for the poor, or that robbing banks won't help this guy keep his house, or even hurt the banks that much. It doesn't even matter that the old man, the victim of this economic system, is himself taking part in a racist system that victimizes his buddy there. In this moment all that matters is some people having fun blowing the shit out of a house that none of them can stay in anymore. And watching the movie we get to share that feeling.
That's what movies are all about. That and sometimes vampires or cars going off jumps.