After their disagreements over A BETTER TOMORROW 2, John Woo and Tsui Hark weren't able to work together on part 3. But they both wanted to do a Vietnam war era prequel, so Woo took his and made it BULLET IN THE HEAD, Hark made A BETTER TOMORROW III: LOVE AND DEATH IN SAIGON. As far as artistic success I'd say Woo definitely won that battle, but at least Tsui got to clean up in the getting-to-hang-out-with-Chow-Yun-Fat department.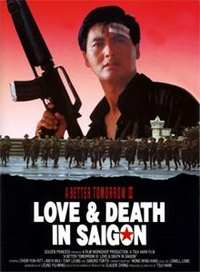 A BETTER TOMORROW III (I would've called it AN OKAY YESTERDAY) takes place in 1974. Chow Yun Fat reprises his role of Mark, who really doesn't look 12 years younger than in part 1 and surprisingly doesn't ever mention that he has an awesome twin brother named Ken who lives in New York. I mean it really is a shame that they didn't get to do some PARENT TRAP type split screen trickery in this one. If the Star Warses taught us anything about prequelizing it's that every popular character from the original movies has to be extremely important in what happened earlier. So Ken should've been all over this thing.
I guess Chow Yun Fat hadn't done HARD BOILED yet, if he had maybe they could've had him save a bunch of babies from a hospital and they grow up to be the kids who idolized Ken and worked at his restaurant in part 2.
Actually, Ho and Kit aren't in this one either, it's just about Mark and two new characters. I thought Mark was supposed to be kind of a bad dude before the events of part 1 but I guess not, he's a nice guy and if I understand correctly this shows how he got involved with counterfeiting and what not. He's trying to get his cousin and uncle out of Saigon and alot of the movie has to do with smuggling American currency across the border.
On his way to Saigon he tries to bribe a customs agent at the airport so he can get some money through, but right after taking his cash the guard is relieved by the guy on the next shift and Mark is fucked. The crazy thing is he would've made it through in time if he hadn't noticed a lady (Anita Mui) drop her lipstick and pick it up for her. Not even something important, just the lipstick, and he got stuck still holding the cap.
Luckily she must've seen what happened and felt bad because she uses her connections to get him through. It turns out her name is Chow and she's a gangster. Good person to know.
Mark finds his cousin Mun (Tony Leung), Mun falls for Chow and Chow falls for Mark, etc. But Chow's got a possessive ex-boyfriend that's a gangster too, he gets jealous and goes after Mark and it turns into a whole thing. Their battle goes on on both sides of the border.
You know, before you get all excited thinking it's gonna be like this: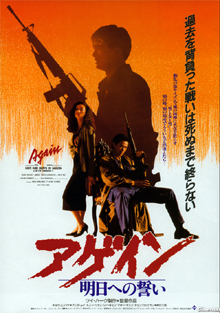 I should inform you that there is also a poster and DVD cover for it that looks like this: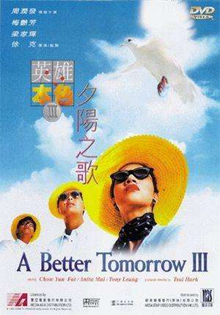 I just thought everybody should be aware of those hats. The public has a right to know. Despite this last poster being sort of accurate I thought this movie was okay, it's more melodrama and it does have some shootouts, including against military police with tanks. There's alot of smoke machines with lights behind them. They're pretty cool scenes, but definitely not up to John Woo standards, even though they do throw a dove into one shot, maybe as a joke. (I did have to see this on a pan and scan VHS with sometimes bad subtitles, so that makes it harder to make a fair comparison to the Woo movies, which I saw on decent widescreen DVDs.)
The action highlight is definitely when Mark drives a motorcycle dragging a crate full of explosives on a trail of barb wire and swings it into a tank to blow it up. Before that there's a great scene where he gets into trouble with customs agents at the airport and decides to deal with it in not necessarily the sanest way: attacking the agent with a club. You gotta admire a guy who knowingly starts an uphill battle like that.
But Mark doesn't start the movie as a guy who could pull moves like that. In this prequel we learn that his female friend Chow taught him everything he knows. There's a montage where he tries to shoot a bunch of bottles and misses every single one. She takes the gun and quickly hits all of them with no effort – the idea I guess is that she teaches him how to do it. When he tries again though he misses so bad that he shoots a coconut drink out of Mun's hand – man, I wouldn't be laughing about that if I was Mun. But he seems to think it's funny.
At this point Mark always has a cigarette hanging out of his mouth, not a match, and he dresses nice. But later in the movie Chow gives him his black duster as a gift from Vietnam, so it's kind of like in the TEXAS CHAINSAW remake prequel when they explain that Leatherface found his chain saw sitting there when he got fired one day. Now when he busts it out in what's supposed to be nearly two decades later in part 1 we understand the sentimental value of the coat, but they don't say anything about why he chews a match stick. Maybe they were saving that for part 4. But if so they waited too long, if they made part 4 now it would have to be about Mark Jr. and he gets handed down the coat from Uncle Ken and he finds a note in the pocket that explains the matchstick.
By the way, it's 50 minutes into the movie before they play that awesome theme song, but at least they play it. I'm not gonna complain. They're just making us earn it. What the movie loses by being a prequel, I think, is that theme of killers and thieves trying to leave their criminal ways behind. It wouldn't make sense for Mark to reform in a prequel. Without that element of the story it doesn't really feel like a real BETTER TOMORROW to me. It's more of a spin-off than an extension of that same story. What it gains, though, is a historical context that we haven't seen a whole lot in the U.S. The Vietnam war to these characters is not so much a threat to their lives as a threat to their freedom if they get stuck at the wrong time on the wrong side of the border.
I have to admit though that I don't feel like I have a frame of reference to understand all that. I'm sure there's shit that's meaningful to Chinese people but that goes right over my head. I think it was also trying to talk about current events through the context of the past, because Mark's uncle keeps talking about the impending takeover of Hong Kong even though it's not scheduled to go down for 25 years when the story takes place.
Mark is trying to hustle them out of the country as quick as possible, but his uncle gets mad because he wants to get all his photos and things. He says "You have no sentiment for the past!", but it's not really true because Mark takes a Polaroid to hold onto and he keeps the lipstick cap from when he first met Chow. I guess in part 1 he has a little more negative view of the past, at least judging from that monologue he tells about being forced to drink piss in Vietnam. That didn't happen in this one (it got used in Woo's BULLET IN THE HEAD instead) so I guess we have to assume that he went back to Vietnam again between the end of part 3 and the beginning of part 1 and had a terrible time.
Anyway it's not hugely important to track down, but worth seeing for completists and scholars of the Mark & Ken's Awesome Black Duster saga.