Well, now that The Hungry Games is over and forgotten, it's time for a new publishing sensation to shatter all records, reinvigorate film schools, liter-ate the illiterate, turn your book club into a full-blown book organization, etc. Ladies and gentlemen, I (Vern) give you SEAGALOGY: UPDATED AND EXPANDED EDITION. This is the same groundbreaking work of film criticism that changed your life before except now it's thicker and more physically threatening because it has 11 (eleven) new god damn chapters added to it, bringing it up to date on all the Seagalogical works since the original publication in 2008.
Alot of you probly heard about the new edition already, but some people were asking me some questions about it and the release is coming up this week so I wanted to tell you the "tails," which is short for "details." It's slang.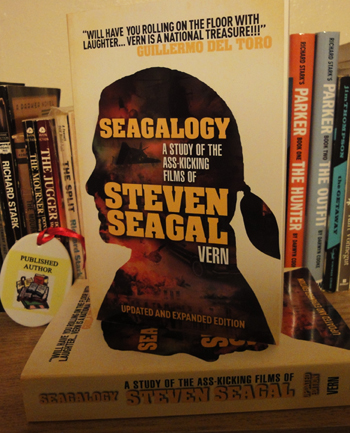 release date: my publisher Titan Books says March 30, but I think in the U.S. it's April 3, since that's what it says on Amazon.
available formats: actual book or pretend electro-book
page count: 485
New chapters: Kill Switch, Against the Dark, Driven to Kill, Steven Seagal: Lawman (seasons 1 and 2 covered, crazy unreleased-so-far season 3 alluded to in footnote), The Keeper, A Dangerous Man, Machete, Born to Raise Hell, Deadly Crossing, Street Wars, Dark Vengeance.
I also have alot of new stuff covered in the appendixes including the Carlton Dry ads, the Lightning Bolt ads, How To Blow Up a Helicopter (Ayako's Story) (Michel Gondry's short about Seagal's daughter Ayako Fujitani), The Onion Movie, an episode of Roseanne that I missed before, a more full accounting of his Saturday Night Live episode, the Steven Seagal v Justin Lee Collins special, and an interesting Buddhism documentary called Words of My Perfect Teacher.
The old parts of the book are subtly improved too because I made a ton of little corrections and updates. Confidential to RRA: I didn't fix that fuck-up about The Fugitive's Oscar nominations because you mentioned it only after I had finalized the fucking thing. Maybe next time. Don't tell anybody.
I had alot of fun writing this, and I think it turned out good. I got to analyze how often Elijah Kane stays in his SUV in the True Justice movies, Seagal's connections to UFC, his first fight against vampires, his first time playing a villain. I studied an earlier, way better cut of Kill Switch to try to understand what the hell was going on with that one, so I've got some good findings for anybody who wondered about that. I found that (like the first time around) the more I re-watched the movies in an analytical context the more I started to appreciate them for all their weird subtext and unexpected connections.
By far the hardest chapter to write was the one on Lawman, where I had to abandon my usual one movie, one chapter structure. But I think I found a good way to do it, hitting on what I saw as the important themes in the two seasons and then exhaustively illustrating them with examples from throughout the episodes. I also noticed that his time in law enforcement seemed to heavily influence the writing of some of his later movies, especially BORN TO RAISE HELL.
They made it without consulting me, but I think they did a great job on the new cover. They have helicopters, fire, some kind of Stealth jet, a car, everything you need in a collage. I love it.
I'm still extremely proud of SEAGALOGY. I'm very happy that Titan asked me to update it just like I had always planned to, and I think the timing worked out well because in my further studies I realized that there was a big change in his filmography shortly after the last book, which I propose as a new Seagalogical era. I hope you all enjoy the book and spread the word to your friends, your students, your lovers and of course your daughters who need something to fill the hole after Harry Potter was killed in the car accident in the last book (source: Wikipedia).
If you read it let me know your thoughts here, but I also give you permission to use this post as the new potpourri thread. Because the last one said it was the final chapter, you can't really do another one after that.
Ask your local bookstore to order you SEAGALOGY: A STUDY OF THE ASS-KICKING FILMS OF STEVEN SEAGAL: UPDATED EXPANDED EDITION, by Vern (not based on the novel Push). Or if you plan to order it from Amazon please click on the covers below to use my link so I can get the rare royalties/advertising fees double-whammy.
thanks
or HERE you can get it in the "Nook" format of pretend screen book
This entry was posted on Tuesday, March 27th, 2012 at 3:52 am and is filed under
Blog Post (short for weblog)
. You can follow any responses to this entry through the
RSS 2.0
feed. You can skip to the end and leave a response. Pinging is currently not allowed.