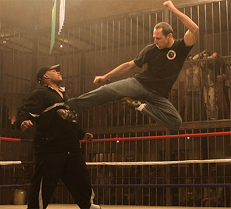 I have a hunch the bigger movie websights are about to catch up with us DTV action scholars re: the films of Isaac Florentine. Over there at Actionfest in North Carolina they gave best picture to MERANTAU (which recently got a rave review on kungfucinema.com) but the much anticipated (by us) UNDISPUTED 3 got best director for Florentine and best choreography for Larnell Stovall (that's Florentine kicking Stovall in the picture there – no joke). According to this article on twitchfilm.net (thanks GoodBadGroovy for posting that in the comments) U3 wasn't originally intended to be in competition, but the jury felt so strongly about it that they chose it anyway. That jury included Mr. McWeeny of Hitfix, Devin Feraci of Chud and Todd Brown of Twitch, so maybe those websights will start talking up Florentine the way we've all been after seeing UNDISPUTED II, NINJA, THE SHEPHERD: BORDER PATROL, US SEALS 2, BRIDGE OF DRAGONS and SPECIAL FORCES.
Feraci tweetered, "UNDISPUTED III is the future of low budget action – amazing digital photography, crisp and exciting fight choreography and personable leads." He probly hasn't seen UNDISPUTED II, BLOOD AND BONE or UNIVERSAL SOLDIER: REGENERATION if he thinks that's a new development, but I'm glad he's on board. Now we gotta introduce those guys to John Hyams.
The other big news is that apparently Chuck Norris declined his lifetime achievement award and gave it to his brother. That's sweet and also kind of hilarious since it was already goofy for Aaron Norris to found a film festival to give an award to his own brother. Now he gave an award to himself!
Anyway, sounds like it went great and will hopefully continue to grow.
This entry was posted on Monday, April 19th, 2010 at 10:37 pm and is filed under
Blog Post (short for weblog)
. You can follow any responses to this entry through the
RSS 2.0
feed. You can skip to the end and leave a response. Pinging is currently not allowed.