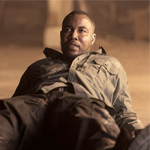 This is my piece about being torn between loving S. Craig Zahler's movies and being grossed out by the worldview they seem to represent. There are many like it, but this one is mine.
I've been waiting for DRAGGED ACROSS CONCRETE with a new emotion I call antici-dread. On one hand, it's writer-director Zahler's followup to BRAWL IN CELL BLOCK 99, maybe my favorite movie of 2017. On the other hand, it's his ode to racist cops and I'm starting to worry that my love for Zahler's right-up-my-alley tone and filmatism has made me too quick to brush off questions about his fascination with casual racism and anti-heroes brutalizing minorities to protect the white women.
I really like BONE TOMAHAWK and BRAWL, and I'm not entirely convinced by some of the interpretations of them I've heard. But I got nervous when producer Dallas Sonnier (who has also done very good work, from managing Stone Cold Steve Austin to resurrecting Fangoria) did a press tour about his company Cinestate's "populist" movies – code for "quiet 2+ hour slow burn niche art movies with occasional bursts of extreme gore" – saying they appeal to a "neglected audience" in "the age of Trump." Asked about BRAWL receiving "4 out of 5 swastikas" from a white supremacist reviewer, Sonnier was only quoted with a less than forceful, "The reactions that come from them, we can't control."
I sure hope it's all a big wacky misunderstanding, but to me it seems suspiciously like a "very fine people on both sides" marketing strategy. Then Zahler rebooted PUPPET MASTER to be about funny puppet hate crimes, and off-handedly referred to GET OUT as "manure" with no explanation in his Fangoria column, and at some point you gotta acknowledge a pattern even if it's gonna fuck with your enjoyment of singular, committed, badass crime stories. (read the rest of this shit…)
VERN has a new action-horror novel out called WORM ON A HOOK! He has been reviewing movies since 1999 and is the author of the film criticism books Seagalogy: A Study of the Ass-Kicking Films of Steven Seagal and Yippee Ki-Yay Moviegoer!: Writings on Bruce Willis, Badass Cinema and Other Important Topics as well as the crime novel Niketown.