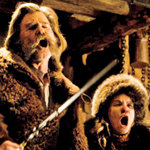 (SPOILERS. This is a don't-read-before-seeing-the-movie review.)
Quentin Tarantino tries out a couple new tricks in his new one, THE HATEFUL EIGHT: he shot in extra-wide 65mm Cinemascope, and helped hook up a bunch of theaters with 70mm projectors (and projectionists, I assume) to show an early, longer version of the movie complete with an overture, intermission and program. He got Ennio Morricone to compose and orchestrate some new music for it (Tarantino's only previous original scoring was some bits by RZA and Robert Rodriguez for the KILL BILLs). But it also feels pretty familiar: his second extreme-racism western in a row, with chapter titles like KILL BILL, full of conversation suspense scenes like INGLOURIOUS BASTERDS, mostly one location like RESERVOIR DOGS, some non-linear jumps like most of his movies, and a cast with plenty of his regulars (Samuel L. Jackson, Kurt Russell, Tim Roth, Michael Madsen, James Parks, Zoe Bell, Waltong Goggins [I almost forgot he was in DJANGO UNCHAINED). Just as INGLOURIOUS BASTERDS got away with some out-of-the-blue, seemingly incongruous narration by Jackson, HATEFUL EIGHT follows up its intermission with some omniscient narration that you suddenly realize is Tarantino himself. I can see why some people would hate that, but I loved it. I mean, who are we fooling, we all know it's this guy talking to us through this movie anyway. And it helps kick off the second half with an energy the first was lacking.
Here's something brand new for a Tarantino movie: I didn't immediately love it. I'm honestly still trying to figure out how I feel about it. I'm not sure I get it. I remember that with both INGLOURIOUS and DJANGO I had misgivings on the first viewings that later seemed completely irrelevant. With the former it was thinking that Brad Pitt seemed like Brad Pitt playing a funny character, he didn't inhabit the character the way previous Tarantino leads had. With the latter it was that Tarantino had never done a movie that followed one character chronologically, and it seemed kinda too simple for him. Both of those seem like dumb complaints to me now, and I loved both movies without reservations on subsequent viewings. Even so, their first times I liked better than this first time. (read the rest of this shit…)
VERN has a new action-horror novel out called WORM ON A HOOK! He has been reviewing movies since 1999 and is the author of the film criticism books Seagalogy: A Study of the Ass-Kicking Films of Steven Seagal and Yippee Ki-Yay Moviegoer!: Writings on Bruce Willis, Badass Cinema and Other Important Topics as well as the crime novel Niketown.