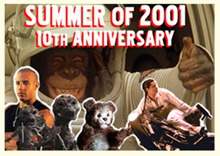 released July 27, 2001
Well, so far this summer of 2001 we've been having hasn't been too hot. But at least we got that new Tim Burton movie coming out, right? I don't know why they gotta remake PLANET OF THE APES but it's a great cast and that guy knows what he's doing, I'm sure he'll do something interesting with it.
Nope. 10 years later I'm not sure I need to explain why the PLANET OF THE APES remake is no good. I don't remember there being an argument about it at the time, or ever encountering anybody that liked it in the decade since. It was a bad idea, it was not good, let's all pretend it never happened. The end.
But I'm doing this thing so let's do it. (read the rest of this shit…)