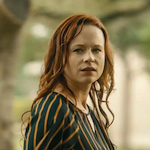 Note: since many of us are on lockdown I want to make sure some of the things I review are extra accessible. I watched this one streaming for free on Tubi (and I'm sure you can get it without ads elsewhere).
When Lucky McKee directed MAY (2002), he became one of a wave of promising new 21st century horror directors. He hasn't received as much attention as Eli Roth, Rob Zombie or some of the other guys who started at the same time, maybe because he hasn't ended up being as prolific. But he's got a permanent place in my hall of fame because THE WOMAN (2011) is My Favorite Horror Movie of the 2010sTM. So I'm interested when he comes out with a new one.
Last time it was one called BLOOD MONEY in 2017. If you heard about that one, and it wasn't from me, I'd be surprised. It's a straight to video/streaming thriller about some young people finding a bunch of money in the woods and trying to get away from the gun-toting hedge fund jerk it belongs to, played by John Cusack. Obviously I prefer the thorough originality of THE WOMAN, but I also dig when a good director can follow a pretty standard genre template and craft it with bits of nuance and personality that you don't expect. In particular I was impressed by some of its gender themes, by the performance of Willa Fitzgerald (Scream: the tv series) and that the only woman in the movie gets to be the Tupac-in-JUICE character who pushes them into danger. (read the rest of this shit…)
VERN has a new action-horror novel out called WORM ON A HOOK! He has been reviewing movies since 1999 and is the author of the film criticism books Seagalogy: A Study of the Ass-Kicking Films of Steven Seagal and Yippee Ki-Yay Moviegoer!: Writings on Bruce Willis, Badass Cinema and Other Important Topics as well as the crime novel Niketown.