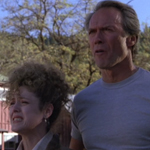 In PINK CADILLAC, Clint Eastwood plays Tommy Nowak, a skip tracer who has to bring in a woman who jumped bail after getting blamed for her stupid husband's stupid prison buddies' counterfeiting scheme. Of course he catches her, but ends up protecting her and falling for her and what not. Do not get this confused with the one where he's a cop who has to escort a mob trial witness from Vegas to Phoenix and falls for her. That's THE GAUNTLET. That one has a bus, not a Cadillac.
I'd say this qualifies as an action comedy. It takes itself seriously, it's not broad like the EVERY WHICH WAY BUT LOOSE movies, but Clint goes further than his usual wry one-liners, because Nowak loves to wear disguises and play characters. In the opening he catches a guy by making him think he won a date with Dolly Parton from a country radio station. Just for this he does a "Crazy Carl Cummings" DJ persona and a briefly-British-accented limo driver. Since he later quibbles with his boss over gas mileage I really wonder how he paid for the limo and costume. I guess he just thinks it's worth the expense to fuck with people. During the drive back to Sacramento he asks the guy what kind of music he wants to listen to, and when he doesn't make a choice, Tommy puts on some Dolly Parton. (read the rest of this shit…)
VERN has a new action-horror novel out called WORM ON A HOOK! He has been reviewing movies since 1999 and is the author of the film criticism books Seagalogy: A Study of the Ass-Kicking Films of Steven Seagal and Yippee Ki-Yay Moviegoer!: Writings on Bruce Willis, Badass Cinema and Other Important Topics as well as the crime novel Niketown.