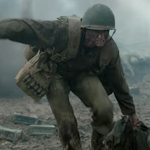 HACKSAW RIDGE is a twisted, uninhabitable mass of rock with a steep edge and riddled with secret caves, one of which is home to 2×4-carrying WWF legend "Hacksaw" Jim Duggan. But there is no movie about that so until then we'll have to make do with director Mel Gibson (APOCALYPTO)'s identically titled HACKSAW RIDGE, the best-picture-nominated movie based on the true story of Desmond Doss (Andrew Garfield, THE AMAZING SPIDER-MAN), the only WWII Medal of Honor recipient who was a conscientious objector. See, he wanted to do his part to fight Hitler, but he didn't believe in killing or even touching a gun, so he went as a medic and was really fucking good at saving people's lives. A reverse AMERICAN SNIPER.
I wonder if he traveled through time if he would kill Baby Hitler, or just try to give first aid to other babies fighting against Baby Hitler? It really makes you think.
The first half or so is before he goes to war. We see him as a little shit, constantly running and climbing and getting in violent scraps with his brother Hal, with no intervention from his drunk asshole dad (Hugo Weaving, BABE), a WWI veteran. Desmond could easily turn into the town bully, but maybe it's his intense devotion to the family's Ten Commandments poster that ensures he's a big dork by the time he grows into Garfield. On one INDIANA JONES AND THE LAST CRUSADE style conveniently fateful day he discovers the two other loves of his life, because he 1) rushes to heroic action in administering a tourniquet and getting an injured person to a hospital where 2) he spots a beautiful nurse (Teresa Palmer, POINT BREAK remake) and decides he will marry her.
But not until his first furlough, because shortly after successfully wooing her he announces that he has to enlist. (read the rest of this shit…)
VERN has been reviewing movies since 1999 and is the author of the books SEAGALOGY: A STUDY OF THE ASS-KICKING FILMS OF STEVEN SEAGAL, YIPPEE KI-YAY MOVIEGOER!: WRITINGS ON BRUCE WILLIS, BADASS CINEMA AND OTHER IMPORTANT TOPICS and NIKETOWN: A NOVEL. His horror-action novel WORM ON A HOOK will arrive later this year.