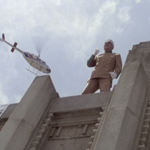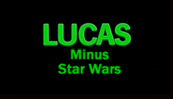 This is the story of Yukio Mishima (Ken Ogata, VENGEANCE IS MINE), once "Japan's most celebrated author," but now largely known as a crazy who commited public ritual suicide. Paul Schrader's complex, lushly produced film weaves together both sides of the writer's legacy, illustrating what he called "the harmony of pen and sword," an attempt to fuse his art and his actions into one.
It starts in 1970 the morning of the day when we know from the onscreen text that Mishima is going to take "4 cadets from his private army" to a military base, kidnap a general. Mishima, and those of us who have heard of this incident, know he will make a speech about the soul of Japan and then cut his belly open with a sword. But he doesn't seem nervous. He skips breakfast but has one last leisurely morning, reading the paper, enjoying some tea in his lovely backyard. (read the rest of this shit…)
VERN has been reviewing movies since 1999 and is the author of the books SEAGALOGY: A STUDY OF THE ASS-KICKING FILMS OF STEVEN SEAGAL, YIPPEE KI-YAY MOVIEGOER!: WRITINGS ON BRUCE WILLIS, BADASS CINEMA AND OTHER IMPORTANT TOPICS and NIKETOWN: A NOVEL. His horror-action novel WORM ON A HOOK will arrive later this year.