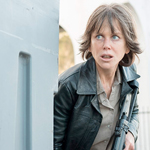 DESTROYER is the latest from director Karyn Kusama (THE INVITATION). It's a dark, character-driven crime thriller starring Nicole Kidman (BATMAN FOREVER) as Erin Bell, an extra-crispy-burnt-out LAPD detective breaking all the rules to chase a bank robber (Toby Kebbell, FANTASTIC FOUR). It's personal to her because years ago she went undercover in his gang and her partner/lover (Sebastian Stan, THE COVENANT) was killed. But she's a total fuckin mess and she seems to be acting on her own and keeps ignoring her partner (Shamier Anderson)'s voicemails asking where the fuck she is.
So no, turns out it's not a remake of the 1988 slasher movie starring Lyle Alzado, and it's not based on a novel either. Writers Phil Hay & Matt Manfredi (CRAZY/BEAUTIFUL, THE TUXEDO, AEON FLUX, CLASH OF THE TITANS, R.I.P.D., RIDE ALONG, THE INVITATION), adapted it from the 1976 Kiss album of the same name featuring "Detroit Rock City" [citation needed]. (read the rest of this shit…)
VERN has a new action-horror novel out called WORM ON A HOOK! He has been reviewing movies since 1999 and is the author of the film criticism books Seagalogy: A Study of the Ass-Kicking Films of Steven Seagal and Yippee Ki-Yay Moviegoer!: Writings on Bruce Willis, Badass Cinema and Other Important Topics as well as the crime novel Niketown.