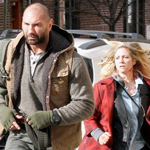 BUSHWICK is an oh-shit-what-if movie. It uses the intimate perspective of one handheld camera – mostly following one character in ROPE-style long takes edited to look like one shot – to show what it would feel like to suddenly find your neighborhood under attack. It doesn't have the limitations of found footage, but it reminds me of CLOVERFIELD in the way it plunges us into the chaos, not really knowing what's going on, running through hoping not to get killed, seeing and hearing mayhem going on down the street, or on the next block down. People running, screaming, cars screeching by peppering buildings with gun shots, snipers on the roofs, explosions in the distance.
There's no science fiction here. This is a guerrilla attack. Ski-masked gunmen, other people shooting back, the factions unclear at first. The reason for the attack has been widely discussed – it was the first thing I read about the movie, and part of why I was excited about it – but since it plays as a big reveal I'll save it for the back end of the review.
The movie follows Lucy (Brittany Snow, PROM NIGHT remake), a white girl coming to the titleistical New York neighborhood to visit her grandmother. But she and her boyfriend Jose (Arturo Castro, BILLY LYNN'S LONG HALFTIME WALK) emerge from the subway and find themselves in a literal war zone, and he is the first casualty. Treated as an outsider in the mostly black neighborhood, Lucy is quickly grabbed by two not-well-meaning locals and dragged into a house (some rare DEATH WISH bullshit in an otherwise pro-urban movie). But then Stupe (Dave Bautista, HOUSE OF THE RISING SUN), the guy who actually lives in the house, comes in to grab his things, sees them and kills them. (read the rest of this shit…)
VERN has been reviewing movies since 1999 and is the author of the books SEAGALOGY: A STUDY OF THE ASS-KICKING FILMS OF STEVEN SEAGAL, YIPPEE KI-YAY MOVIEGOER!: WRITINGS ON BRUCE WILLIS, BADASS CINEMA AND OTHER IMPORTANT TOPICS and NIKETOWN: A NOVEL. His horror-action novel WORM ON A HOOK will arrive later this year.