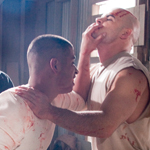 BEATDOWN is yet another movie to add to my list of formulaic underground fighting movies that I found pretty enjoyable. It's produced by the company Tapout, and to be honest I don't 100% know what Tapout is, but this definitely seems like a movie aimed at the people who wear their t-shirts. It's about small town working class folks who drive gigantic pickup trucks and only care about cage fighting. They all have some sort of tragic past involving a dead and/or abusive parent, which they talk alot about. The soundtrack is all a type of rock music that makes me cringe with embarrassment, but I can acknowledge that it might sound good to the target audience. It's a little weird though when a singer is wailing and grunting about "a wildfire in the streets" over a scene that takes place in a barn.
It's the story of Brandon, a young underground fighter whose brother gets murdered and gangsters tell him he has a week to fulfill a $60,000 debt. There's no way he can do that so he decides to get away from it all. He gets on his motorcycle, participates in a driving montage, and ends up at his dad (Danny Trejo)'s trailer in some hick town outside of Austin.
I've been systematically going through every movie of this type even if I know nothing about them or their stars. It took a bit before I realized that Brandon was played by Rudy Youngblood, the star of APOCALYPTO. Did you know he got an action vehicle after that? I like that. (read the rest of this shit…)
VERN has a new action-horror novel out called WORM ON A HOOK! He has been reviewing movies since 1999 and is the author of the film criticism books Seagalogy: A Study of the Ass-Kicking Films of Steven Seagal and Yippee Ki-Yay Moviegoer!: Writings on Bruce Willis, Badass Cinema and Other Important Topics as well as the crime novel Niketown.