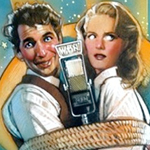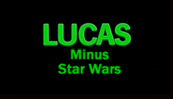 RADIOLAND MURDERS is a retro comedy, a madcap murder mystery taking place in 1939 as a Chicago radio station has a gala live broadcast performed in front of an audience and a room full of big shot affiliates waiting to be impressed. There's a big band and actors doing adventure shows and commercials while the writers, directors and sound engineers scramble to have something on the air after the boss just tossed out all of their scripts. Meanwhile, writer Roger (Brian Benben, I COME IN PEACE) is pathetically trying to woo back his wife Penny (Mary Stuart Masterson, GARDENS OF STONE), who thinks he cheated on her. It was a misunderstanding, but he's too much of a doofus to make her understand.
And then he becomes the #1 suspect when people in the station start turning up dead. So he has to avoid the police, solve the mystery, convince his wife and finish some scripts. Kind of a rough day for him.
The DVD cover brags about an "All star cast!," which is stretching it, but the huge ensemble cast does include an impressive lineup of character actors, some of them better known now than they were then. You also got Ned Beatty, Brion James (BLADE RUNNER, 48 HOURS), Michael Lerner (MANIAC COP 2), Michael McKean, Jeffrey Tambor, Stephen Tobolowsky, Christopher Lloyd, Larry Miller (FOODFIGHT!), Corbin Bernsen, Bobcat Goldthwait, Dylan Baker, Robert Klein and Harvey Korman (The Star Wars Holiday Special). Candy Clark and Bo Hopkins of the AMERICAN GRAFFITI saga show up together. Since there's sort of a variety show going on at the center of it there are appearances by Rosemary Clooney, George Burns, Joey Lawrence (as a dreamy crooner) and even Billy Barty (WILLOW). Also Gary Anthony Williams, the voice of Uncle Ruckus on The Boondocks, made his first movie appearance. (read the rest of this shit…)
VERN has a new action-horror novel out called WORM ON A HOOK! He has been reviewing movies since 1999 and is the author of the film criticism books Seagalogy: A Study of the Ass-Kicking Films of Steven Seagal and Yippee Ki-Yay Moviegoer!: Writings on Bruce Willis, Badass Cinema and Other Important Topics as well as the crime novel Niketown.