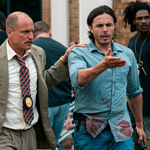 TRIPLE 9 – being from John Hillcoat, the director of THE PROPOSITION, THE ROAD and LAWLESS – is a cops 'n robbers movie where the dirty details of the setting, the eccentric character and actor moments, and the suffocating cloud of near-hopelessness in mood and content are given a little more energy than narrative. Even so, it is fairly effective as a heist/suspense thriller and is handily pushed over the finish line by its A+ cast who all came excited to play in this heightened world of crooked Atlanta cops and mercenaries forced by Russian-Jewish gangsters to try to steal from the Department of Homeland Security. The specifics are all odd enough to make police corruption stories seem fresh.
The movie opens with a carload of sweaty, dangerous men discussing and then launching into a credits-sequence daylight bank robbery. It's only after their messy escape (which includes a van driving fast through traffic while filled with red dye pack smoke and machine guns fired on gridlocked civilians) that we see the badges come out and realize that most of these guys are cops. (Others, we hear later, are "special ops guys" turned private security contractors.) They actually change out of their stained clothes and go straight to work. That's a long day! I bet they smell pretty ripe, too. (read the rest of this shit…)
VERN has a new action-horror novel out called WORM ON A HOOK! He has been reviewing movies since 1999 and is the author of the film criticism books Seagalogy: A Study of the Ass-Kicking Films of Steven Seagal and Yippee Ki-Yay Moviegoer!: Writings on Bruce Willis, Badass Cinema and Other Important Topics as well as the crime novel Niketown.