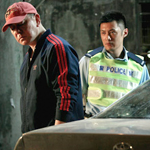 Cheang Pou-soi has been directing movies since 1999, but I never knew about him until 2015 when I was blown away by KILL ZONE 2 (SPL II). MOTORWAY is from 2012, and it's a much simpler film – shorter, less complicated, less thematically heavy, and it works really well that way. Maybe some of this simplicity comes out of the type of action. Martial arts scenes like KILL ZONE 2's require increasing complexity – for example the knockout prison riot scene – but this is a car chase movie. At its heart it's about two drivers. One guy in a car driving very fast after another guy in a car. Literally straight forward.
It's a serious movie, but it's got a nice tinge of absurdity to it. Its law enforcement protagonists are not cool homicide detectives or badass SWAT dudes, they're part of an elite squad of, uh, traffic cops. I guess they're there for their high level driving skills, but their regular job is camping out with the speed gun, pulling people over, wearing dorky windbreakers and reflective vests, the kind of thing most action movie cops only have to do in a funny montage after they get in trouble. Cheung (Shawn Yue, LEGEND OF THE FIST, THE GUILLOTINES) takes the job seriously and is annoyed that his older partner Lo (Anthony Wong, HARD BOILED, GEN-X COPS 2, EXILED, THE MUMMY: TOMB OF THE DRAGON EMPEROR, IP MAN: FINAL FIGHT) seems to not give a fuck. (Having him browse literature about an upcoming retirement seminar is a good spin on the ol' two-weeks-from-retirement cliche). (read the rest of this shit…)
VERN has a new action-horror novel out called WORM ON A HOOK! He has been reviewing movies since 1999 and is the author of the film criticism books Seagalogy: A Study of the Ass-Kicking Films of Steven Seagal and Yippee Ki-Yay Moviegoer!: Writings on Bruce Willis, Badass Cinema and Other Important Topics as well as the crime novel Niketown.