LEGEND OF THE FIST: THE RETURN OF CHEN ZHEN is the latest in Hong Kong's prestigious line of FIST movies. If you're not familiar with the saga it's very simple: Chen Zhen is a vengeful kung fu master who was played by Bruce Lee in FIST OF FURY (1976), Jet Li in FIST OF LEGEND (1994), Donnie Yen in the FIST OF LEGEND tv series (1995), and Donnie Yen again in this movie based on his tv series adapted from Bruce Lee's movie because of the popularity of Jet Li's movie. The fictional Chen Zhen is supposed to be a student of the historical Huo Yuanjia, who was played by Jet Li in FEARLESS (2006). So keep in mind while watching that movie that Jet Li is playing teacher to himself and Bruce Lee and Donnie Yen, who of course played teacher to Bruce Lee in IP MAN 1-2. The Bruce Lee movie FISTS OF FURY is not related to these movies, that's just another name for THE BIG BOSS. The Chen Zhen movies are only singular FIST and not plural FISTS. Also Chen Zhen is not related to the historical figure from the Han Dynasty, he is instead portrayed as living in the Republican era  before the Second Sino-Japanese War although Huo Yuanjia lived during the late Qing Dynasty. So you see there is nothing to be confused about here.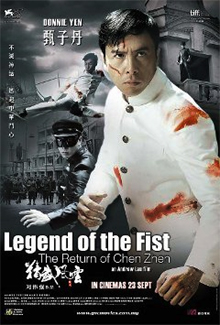 Although I've never seen the tv series I was pretty excited for LEGEND OF THE FIST. Donnie Yen is on a real roll right now after the IP MAN movies, this is from Andrew Lau (co-director of the INFERNAL AFFAIRS trilogy) and it's a character from two of the all time classic martial arts pictures. But, uh… oh well. I'm sure other movies will come out that I can look forward to.
The movie begins in France in 1917. Chen Zhen is a soldier in the middle of a tense battle. He has some kind of amulet which the other soldiers credit with saving their lives. (I don't get it.) For a minute it's like a normal war movie: trenches, helmets, guns, bombs. But then things get desperate so Chen Zhen decides fuck it, I am a martial arts legend, I'm gonna run around and do a bunch of flips and parkour and kung fu the shit out of a whole bunch of French soldiers. The action (choreographed by Yen himself) is really cool, but almost comical in how exaggerated it is. He swings on a rope in a Peter Pan pose with a dagger between his teeth, he runs in circles leaning over so far his body could almost scrape the ground, it looks like a cartoon. Even I, an avowed fan of absurdity, thought at some point it was gonna turn out to be a comical fantasy or daydream type sequence. Nope. Just a war flashback.
Then it skips ahead to 1925 Shanghai, for more of that Chinese-Japanese tension that was such a big part of FIST OF FURY. When that was remade as FIST OF LEGEND they made an effort to tone it down, to be more nuanced, explore the reasons for the tension and show good and bad on both sides. For example there is a classic scene where Chen Zhen and an old Japanese master learn from each other and gain each other's respect through a duel. But nationalism is back in vogue in Chinese movies these days, so LEGEND OF THE FIST tones it back up a little.
The Bruce Lee version of the story ends with Chen Zhen defiantly running toward a firing squad, in the Jet Li version he's allowed to fake his death and escape. In this one he's presumed dead so I figure either it follows FIST OF LEGEND or he used that magic amulet from the war to be bullet proof. Either way he comes back wearing a fake mustache and the identity of one of his dead war buddies. He hangs out at a night club called Casablanca and impresses the owner Master Liu (Anthony Wong) so he ends up working for him. They seem like real homies, but Chen is doing this as part of an undercover mission for the Chinese resistance. He also falls for the club's singer Kiki (who's Master Liu's girlfriend, but he says it's okay).
Alot of Japanese dignitaries hang out at the Casablanca and cause alot of squabbles that I feel confident I don't fully understand (something about a spinning a coin). Chen finds out about an assassination attempt that will hurt the goal of Chinese unification and help the Japanese to invade, and soon after that there's a whole enemies list of Chinese people they plan to execute. It just so happens that the local movie theater is showing a super hero movie called THE MASKED WARRIOR, so Chen conveniently steals a Kato or Black Mask style costume from a window display to anonymously defend the people in danger.
To me it seemed like a reasonable idea to go that pulpy. It is after all the LEGEND of the fist, not THE HEAVILY RESEARCHED HISTORICAL ACCOUNT of the fist. But the way it's handled is pretty lazy. There's just a montage that shows little bits of fights and then spinning headlines about "The Masked Warrior"'s success. There really wasn't a strong reason to turn him into a costumed super hero, and they barely do anything with it. And I can always roll with a Kato mask but I did find it pretty laughable whenever he stood posing on top of a building like the end of the old Michael Keaton BATMAN movie.
It's half-assed as a super hero movie, and only about 3/4 assed as a spy movie. But there is some intrigue and double-crosses and what not. Chen ends up abducted, strung up and tortured. It turns out the Japanese general who hates Chen is the son of the karate master he killed in the dojo in the original story, so he's out for revenge, and they're gonna fight and what not. (Remember, the first story was about his furious revenge for the death of his master, now this guy is avenging the death of his master/father, so it's a taste of his own medicine).  When he finds out what's going on Donnie Yen as Chen Zhen gets to repeat Bruce Lee's "Chinese are not sick men of Asia line," which I still don't understand no matter how it gets translated.
(And no, I'm not saying Chinese are sick men of Asia. I honestly don't have any opinions about who is or is not sick men of Asia.)
The nationalism and stubbornness in the original bothers me, but the movie is so undeniably great that you still gotta enjoy it. This is a much weaker story, so it's harder to forgive. One scene in particular is goofy because they have some college protesters chanting "Remember our national humiliation!" in protest of what the news reports as 30,000 killed or wounded. 30,000 victims and you guys are upset because it was embarrassing? I know it's a cultural thing, but jesus.
I get a kick out of the fake mustache. I guess it's kind of an homage to FIST OF FURY because that Chen Zhen had some disguises too, he dressed up as an old man for example. But alot of time passes during this legend, so I had to wonder how he manages to have close relationships with all these people over a long period of time and none of them ever notice he's wearing a fake mustache. I was thinking maybe at some point he grew it for real, but then I realized he never has it when he's the Masked Warrior. So you gotta give him credit for pulling that off, I guess. Musta gone through alot of spirit gum.
There's a little bit of the competition between dojos from the old school kung fu movies, so the bad guy says "Feel free to stop by Hongkou Dojo" and Chen says, "I'll do that sometime." I liked that.
The editing is very quick, but not usually in a bad way. The story keeps moving at a clip, and if I spoke the language instead of having to read the subtitles I could probly keep up fine. Still, it just goes through the motions, it doesn't have any depth to anything, so it's not nearly as exciting as a kung fu, super hero or war resistance movie should be. Also it has too many eye-rolling cliche scenes, like the one where the inspector makes a rousing speech to inspire the jailed protesters and the French occupiers immediately give in.
The good part is the action. There's alot of cool moves and it's pretty violent. That was good. I liked the fights, but the two classic FIST movies (not to mention Yen's two recent IP MAN movies) have characters and stories you care about, and fights that are tied into the story and characterization. LEGEND OF THE FIST can't compare to any of them, not even close.
Oh well. It'll make for an interesting Scorsese remake.
This entry was posted on Wednesday, March 16th, 2011 at 10:44 pm and is filed under
Action
,
Martial Arts
,
Reviews
. You can follow any responses to this entry through the
RSS 2.0
feed. You can skip to the end and leave a response. Pinging is currently not allowed.