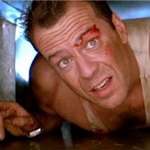 I don't like to say I have a favorite movie. There are too many great ones that I love for too many equally meaningful-to-me reasons. But if I had to choose one, like if you had to register your favorite movie with the government or something, maybe it would be DIE HARD. I wrote a piece about it before, but that was 16 years ago, I was a different person then, and it's embarrassing to me. So let me try again.
Many of the reasons I love DIE HARD are self evident. By now most people have caught on to the fact that it's an extremely well made, ridiculously entertaining popcorn masterwork. The story is so perfect and elemental that it became a template, a name for a reliably entertaining subgenre of action movies. This is a testament to the genius of the setup by Roderick Thorp in his novel Nothing Lasts Forever, its remolding by screenwriters Jeb Stuart and Steven E. de Souza, and its precise cinematic execution by director John McTiernan, cinematographer Jan de Bont, editors John F. Link and Frank J. Urioste, composer Michael Kamen, etc. They crafted a pitch perfect introduction of this character (based around the charm and humor of Bruce Willis) and unrolling of the sinister plot he's about to crash head first into. And then it escalates into spectacular crescendos – the explosion in the elevator shaft, the desperate leap from the roof and bare-foot-kicking-through of the window – that, in their somewhat grounded context, continue to feel enormous even after movies (including its four sequels) have gotten bigger and bigger for nearly three decades. In retrospect it wasn't the amount of C-4 but the placement of it that caused the ads to vow it "WILL BLOW YOU THROUGH THE BACK WALL OF THE THEATRE."
(read the rest of this shit…)
VERN has a new action-horror novel out called WORM ON A HOOK! He has been reviewing movies since 1999 and is the author of the film criticism books Seagalogy: A Study of the Ass-Kicking Films of Steven Seagal and Yippee Ki-Yay Moviegoer!: Writings on Bruce Willis, Badass Cinema and Other Important Topics as well as the crime novel Niketown.