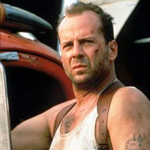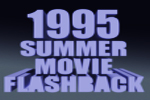 "But I thought this was a currency exchange!"
In kicking off my summer of 1995 retrospective I made the grave error of skipping a May 19th release that very likely is the movie of that summer, one that is widely loved (especially around here) but sometimes forgotten in the lists of great films of the '90s. Of course I don't have to remind you guys about DIE HARD WITH A VENGEANCE, you know about it. But I neglected to remember that my reviews of the original DIE HARD trilogy were written 15 years ago when I was taking the first steps on my journey to cinematic enlightenment. In other words I was kind of a dummy. So I owe it to myself and to society to try again.
The main thing that makes WITH A VENGEANCE stand out from the other DIE HARD sequels is the strong filmatism of director John McTiernan at his peak. The opening two minutes is a perfect sample, like when the one guy in the coke deal lets the other guy dip his finger in and taste the product. We see the Brooklyn Bridge on a summer day. Then the words "DIE HARD" whoosh onto the screen. This is DIE HARD but it's a new location, new time of year, new time of day. Then the words fly away and are replaced by a much larger" WITH A VENGEANCE," slamming across the screen, then shooting right at us. This is a sequel that's aware of the power of it's title, so it's unashamed to smash it into our eyes with a sound effect, to cockily fill the whole screen with it.
Then we get a beautiful montage of New York City set to "Summer in the City" by the Lovin' Spoonful. The sun glimmering on reflective buildings. Sidewalks filled with people walking to work. Cars and buses and delivery trucks. These look like real commuters. Documentary footage. An accurate representation of regular people starting their day. A nice day, too. But abruptly, mid-lyric, a department store explodes, sending clouds of dust and wreckage into the street, flipping over cars and trucks parked in front. (read the rest of this shit…)