DIE HARD WITH A VENGEANCE
My first time

Well I have found that a lot of my readers have also come to love the films of the Bruce Willis Die Hard series. But I wonder how many of you are in the same situation as me. Die Hard comes out in 1988, you love it. Die Hard 2 comes out a couple years later, pretty fucking good. Die Hard part 3 comes out but wait a minute, you are incapacitated and/or incarcerated at the time and are not able to ever get around to seeing the thing until letterbox video in the year 2000.
So yes, this is my first time for Die Hard With a Vengeance which is what they call part 3 for whatever reason, not sure about that one get back to me on that one later.
The other Die Hards took place in a limited setting – part 1, they take over a building. Part 2, they took over an airport. Part 3 opens by montaging New York city to the tune of "Summer in the City" by the Lovin Spoonful. You got the cars, you got the people, you got the stores and then oh yeah you got a big explosion. So right away you say wait a minute, these terrorists, these motherfuckers are working on a bigger canvas this time. That canvas, in my opinion, is called New York city. So it's a whole different thing we're dealing with here McClane.
Now the second difference here is that McClane doesn't just happen to be there by coincidence. In fact he's on suspension and he's out drinking and they have to find him, because the mastermind who calls himself Simon asks for McClane specifically. (Not to give anything away but he is Hans Grueber's brother out for revenge.)
In my opinion the opening is the best part of this piece. This one harkens way the fuck back to Bruce Willis's Die Hard 1 (1988) in which John McClane was introduced as Hollywood's most fucked up action hero. He's separated from his wife, he fucks up bad and starts arguing with her, I mean the guy's falling apart so much he's walking around without shoes on.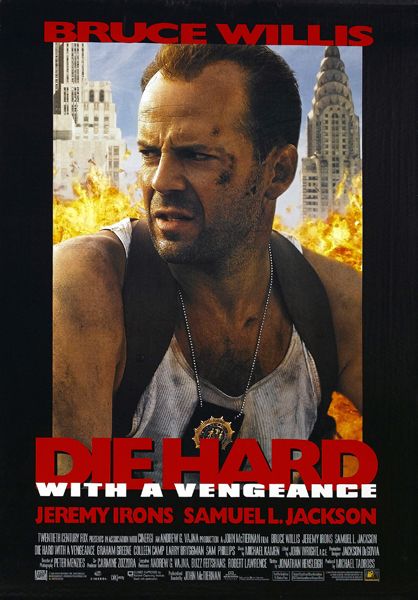 John McClane With a Vengeance is introduced in the same type of way. This time he's suspended from the force, everyone hates him and makes fun of him. He looks like shit, he complains about his hangover, brags about his dick, and his co-workers enjoy sending him out into Harlem in his underwear wearing a sign that says "I hate niggers" (by special request from this fucker Simon.)
So while in the other ones McClane just wants to get through all this so he can talk to his wife, in this one he just wants to get over the fucking hangover. Unfortunately I didn't expect this but his relationship with Hollie seems to be down the tubes, they're living in different cities again and they haven't talked in months. You don't even see the dame during the movie although he tries to call her on the phone.
I wish they would have continued with McClane as this drunk fuck, but he kind of turns into Batman somewhere along the way, probably because of all this riddle me this shit Simon is doing. One problem I have is Bruce starts to get cocky. In the other ones, he is in a tight situation and has to improvise, and alot of times he starts swearing cause he knows the chances of this shit working are slim. I mean how are you going to be sure you can tie a firehose around your waist and swing down and kick through a window with bare feet. Well Bruce With a Vengeance wouldn't be nervous. He knows how to drive a taxi the wrong way on a busy one way street, through a park, off a bridge – doesn't even hesitate. He knows how to grappling hook from a bridge to a boat. And the cops all hate him at the beginning but then they let him do whatever he wants, like fly up in a helicopter and get on the megaphone and go, "Hey dickhead, did I come at a bad time?" as the cops surround the building.
On the positive side, he doesn't get his badge back at the end or anything like that. He just blows the dude up and goes to make a phone call.
I like this movie. Simon's robbery scheme is clever, and his riddles lead to some exciting action scenes. And of course Bruce is still representing for the Badass community which I really preciate, don't get me wrong.
I don't know why they needed to give Bruce a partner, but I enjoyed this gentleman Samuel L. Jackson. Like me Samuel is a Positive individual who tries to keep peace in his community. At the same time he does not want anything from no fucking whites and he is suspicious of McClane. And what Samuel shows in my opinion is that you can be a Positive individual and still say motherfucker alot, which in my opinion is a lesson Hollywood needs to understand if they're ever going to come to terms with a dude like me.