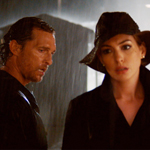 I have great respect for Steven Knight. He wrote EASTERN PROMISES, ALLIED and THE GIRL IN THE SPIDER'S WEB, he wrote and directed the under-recognized Jason Statham movie REDEMPTION (a.k.a. HUMMINGBIRD) and the Tom-Hardy-on-the-phone movie LOCKE. Most of his shit is good. So when his new steamy sleazy noir thriller thing SERENITY was universally panned and made fun of for a purportedly insane plot twist I didn't entirely buy it. I thought maybe people were being unappreciative of its apparent audacity, maybe I would enjoy it more.
But jesus, they weren't lying. This is the most potent feeling of how did all these people agree that this was a movie worth making I've had in a long time. It's not just that the twist is outlandish – it's that it's just not a good premise. Being crazy, being unpredictable, being bizarre, unfortunately does not always equal being cool. I just can't picture the person who would get to the part where you find out what's going on and think Ah ha, now we're talking! This is absolutely an idea that is not dumb and was worth writing down and printing out on paper and getting talented people to convey in a storytelling medium! Your mileage may vary.

I will of course tell you what the twist is. I have to. But it starts as a story about Baker Dill (Matthew McConaughey (AMISTAD), Iraq vet turned charter boat captain and fisherman on a quest to catch a mythical beast of a fish he has named "Justice." He's kind of a mess, but well-liked on the tiny island of Plymouth. Also he's hard up for money and taking it out on his faithful first mate Duke (Djimon Hounsou, also AMISTAD), who he fires and accuses of being bad luck. (read the rest of this shit…)
VERN has a new action-horror novel out called WORM ON A HOOK! He has been reviewing movies since 1999 and is the author of the film criticism books Seagalogy: A Study of the Ass-Kicking Films of Steven Seagal and Yippee Ki-Yay Moviegoer!: Writings on Bruce Willis, Badass Cinema and Other Important Topics as well as the crime novel Niketown.